Design Things To Do


Now onto the fun stuff…
Dialogue with Silver Lake

Veronika Kellndorfer at Neutra VDL House
June 3 – July 30

In the event you haven't already heard enough about Richard Neutra…
This Saturday the always lovely Neutra VDL house in Silver Lake welcomes visitors to Dialogue with Silver Lake, Metabolism of Architecture, a site-specific exhibition by artist Veronika Kellndorfer.​
Kellndorfer, known for layered images of buildings often reproduced on glass, has produced a collection of new works that respond to the house's context, history, and design. It was destroyed by fire in March 1963 (then rebuilt).
According to the organizers, her "artistic intervention manifests as freestanding glass sculptures that reflect the building's mirrors and watery surfaces. The engraved silkscreened images capture the interplay of light and shadow on the building's surfaces, engendering a dynamic connection between the architecture and its environment."
There will be a public opening this Saturday, June 3, from 4 – 7pm.

Click here for more information.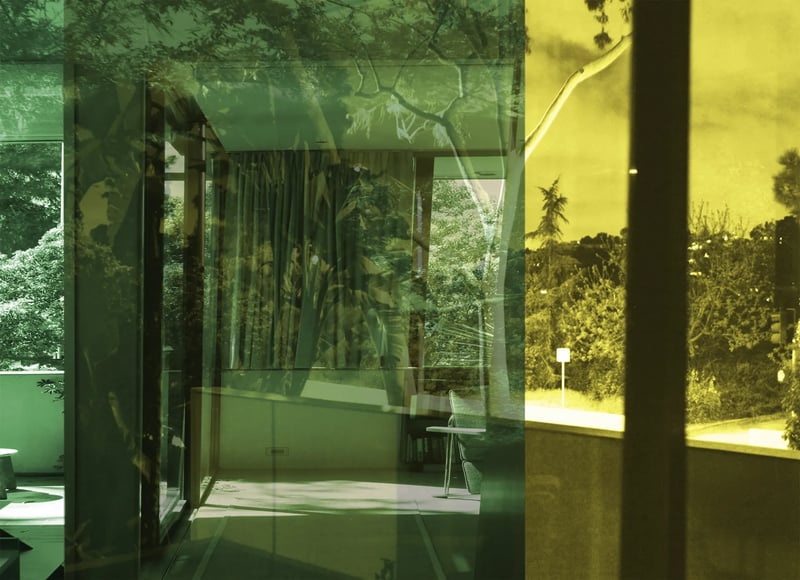 Neutra VDL House, image courtesy Veronika Kellndorfer
Last Remaining Seats
Broadway theatres, June 3 - 17
An oldie but goodie. The LA Conservancy brings back its popular summer series of classic movies shown in classic cinemas on Broadway, Last Remaining Seats.
Get some popcorn, sit back in the lavish interiors of The Orpheum, the Los Angeles, and the Million Dollar theatres, and enjoy offerings including Fritz Lang's sci-fi classic Metropolis (1927), Enter the Dragon (1973) with Bruce Lee, Planet of the Apes (1968), and Alfred Hitchcock's "daring, disturbing psychological thriller" Vertigo (1958).
As a plus, Christine Madrid French, preservationist and author of The Architecture of Suspense: The Built World in the Films of Alfred Hitchcock, and Traci Lew, chair of the Last Remaining Seats committee, will discuss the making of Vertigo and architecture's role in it.
Click here for all the details.
NOTE: The Los Angeles Conservancy has valiantly led efforts to conserve some of the garden apartment complexes mentioned earlier in this newsletter; and it helped found the original Adaptive Reuse Ordinance, also mentioned above. It did so under the tireless leadership of Linda Dishman who recently announced that she will retire later this year.

L.A.'s Housing Crisis
Hammer Forum, with KCRW's Anna Scott Tuesdays, June 6/July 11/August 22, 7:30 pm
LA's housing crisis is obviously most visible and most critical on the streets, where thousands of people make their home.
KCRW's Anna Scott has reported on homelessness for many years, through on-air stories and her outstanding podcasts Samaritans and City of Tents. Now she is leading three public conversations about the issue, over the summer at the Hammer Museum. Scott and invited speakers will discuss: Deconflating L.A.'s Homeless and Mental Health Crises (June 6); Alleviating the Housing Crisis: Where's the Money? (July 11); and Homelessness in Los Angeles: In Search of Solutions (August 22).
Click here for details.
NOTE: While at the Hammer, check out the redesign of the street level and exhibit spaces, finished after years of gradual changes designed by Michael Maltzan.
Pride Week
LA Pride, Friday June 9 and Saturday, June 10
Pride is soon to be everywhere, at multiple locations and dates. Thank you to Time Out for this breakdown of everything on offer in the Los Angeles region, from Santa Monica to Dodger Stadium and LA State Historic Park.
Needless to say, it will be an style and artistic bonanza, from street decoration on 3rd Street Promenade in SM to the Angelic Troublemakers exhibition of digital drawings and photographs on the theme of LGBTQIA+ Pride at the West Hollywood Library, an Evening Among the Roses at Huntington Library, and of course the massive Pride Parade, now centered on Hollywood.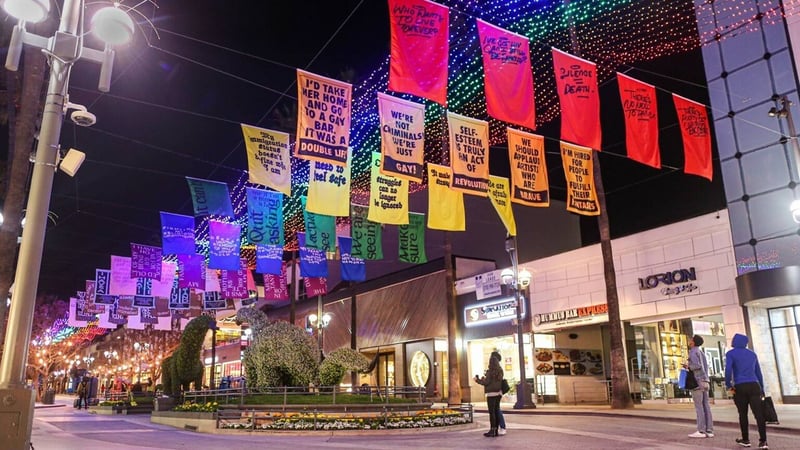 Pride on the Promenade, image courtesy Downtown Santa Monica, Inc.
Dapper Dans
Male Edition: The Art of Men's Style, Fahey Klein Gallery, June 15 - July 29
How delightful to behold men who make a statement with style. Fahey Klein will soon open a show of images by 33 photographers in its stable, taken between circa 1900 and 2010. Works will include: jazz musician Dexter Gordon, who "effortlessly combined dapper fashion with musical prowess," says the gallery, in a portrait by Herman Leonard; Janette Beckman's image of Billy Idol, in leather jacket adorned with pins and spikes, showing punk as extreme fashion; and Mark Seliger's 1998 depiction of Brad Pitt in the pink in Palm Springs.
In case you are wondering, Male Edition focuses on cisgender men; the gallery says this is the first in a series displaying "the varying ways personal style has been utilized in the expression of self-identity," with shows of many gendered splendor in the offing.
Exhibition Reception: Thursday, June 15th, 7pm.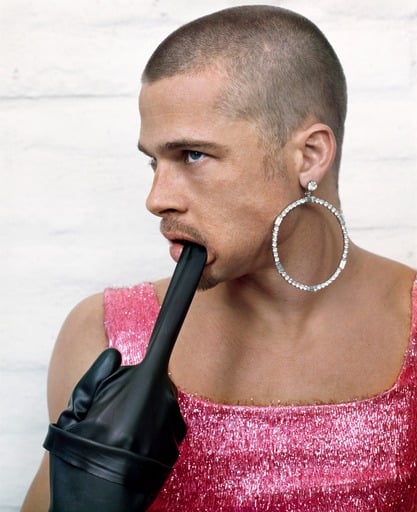 Mark Seliger_Brad Pitt (Pink Dress), 1998, ©Mark Seliger, courtesy of Fahey Klein
Los Angeles Design Festival
Thursday, June 22-Sunday, June 25
Get ready for the Los Angeles Design Festival (LADF), taking place at ROW DTLA, Helms Bakery District, and Studio One Eleven in Long Beach over four days in the last weekend of June.
Under new leadership of Executive Creative Director Erika Abrams, the theme this year is "design for the people." "Design for the People' is a call to creatives who have felt excluded, dismissed, or overlooked as design contributors to the LA community or industry," says Abrams, adding, "Design surrounds us and is a powerful language that transcends barriers of race, ethnicity, gender, dialect, economic status or origin."
Close to the Edge: The Birth of Hip Hop Architecture, curated and designed by

Sekou Cooke

, and jointly presented by SoCalNOMA, the A+D Museum, and Helms Bakery District, an exploration of the multidimensional influence of Hip Hop on our urban fabric (hear my KCRW interview with Cooke

)

Graphic designer

Silas Munro

presents

On the Consideration of a Black Grid

,

"

a brief visual essay that charts a series of experimental meditations on how grids can shape Black liberatory forms," at ROW DTLA.


Flowerboy Project

Creative Director

Sean Knibb

unveils a dried flower installation at The Mezzanine above LOAM restaurant at Ace Hotel Downtown Los Angeles.
You too can submit an event for inclusion in the Los Angeles Design Festival. Send your pitches to erika@ladesignfestival.org.
I'll share much more info in the next newsletter.

Follow LADF @ladesignfestival

.