Dear DNA friends,
Hope you are doing well… and staying cool, ideally with the help of some easy breezes. Read on for that story or jump to 52 Things to Do!
Yes, it's hot, hot, hot these days, prompting concern about those without air conditioning, especially as the numbers of scorching days are climbing. And yet the remedy is also a cause of the rising heat. As explained in WaPo, air conditioning, a clever invention, ranks as one of the biggest energy users in homes across much of the country, and consumes about 6 percent of the nation's electricity, more than half of which comes from fossil fuels. AC's Hydrofluorocarbon coolants (HFCs) contribute to global warming. Plus, it can be ill-healthful, and expensive, costing homeowners $29 billion yearly.
But it is possible, in the right circumstances, to stay cool without even turning on the AC, also known as passive cooling. This is how people dealt with the heat in the US –– and the world over –– until the late 1960s. You'd barely know about it, however, from articles about how to alleviate the pocketbook, climatic, and health costs of AC, which generally tout upgrades to the technology or recommendations to reset your thermometer.
So kudos to Helen Li for writing this LA Times think piece about age-old passive cooling techniques, having personally experienced them in a past rental in Alhambra. There, a combination of cross-ventilation via several openable windows and light-reflecting white, thick walls, kept her cool and comfortable in the summer, even in the toasty San Gabriel Valley.
These same strategies underlay the design of early courtyard housing in Southern California (explored in my book Common Ground) that many of us find so charming. They also informed midcentury house design. Last week I visited two, once identical hillside houses a few yards from each other in Sherman Oaks. They were built in the early 1960s and were designed for maximum airflow, with windows on three sides. One house was filled with cool breezes and the soft sounds of rustling trees and birds tweeting outside. The other had been remodeled, its openable windows had been replaced with a sealed wall of glass, and the only sound was the AC humming as it pumped out icy air.
Li reminds readers that every culture in the world traditionally used neat design strategies and devices to keep cool, from siting buildings to keep out the hot sun and take advantage of prevailing winds for cross-ventilation, while incorporating shading structures or coverings over windows, air-coolers like skywalls (China), wind catchers (Iran), thick walls or dense insulation, light roofs and, outside, shade trees.
As the architect Julie Eizenberg told Li: "If you design a building, think of air conditioning as a bonus." Yet, even though architects know how to design buildings for passive cooling, it appears that today they are not encouraged to do so.
The shops and office buildings many of us work in have sealed glass walls without operable windows, which is more efficient for the air conditioning but rarely meets the temperature needs of all staffers. Not to mention we just came out of a pandemic that reminded us all about the need for flowing, fresh air! New apartment buildings invariably consist of rows of units with windows on one side that are entered off of central, enclosed, corridors, known as "double-loaded corridors," as you find in many hotels. This arrangement is cost-effective but precludes cross-ventilation.
Furthermore, many buildings today tout LEED certifications. LEED is the most widely used rating system for sustainable design. It was developed by the U.S. Green Building Council and –– in exchange for a fee paid by property owners –– awards points to buildings based on various metrics including water and energy efficiency, material and resources, and indoor environmental quality.
Yet, LEED does not reward passive cooling per se; rather, it gives points to a cooling system that doesn't use refrigerants like HFCs or other harmful contaminants. As a result, casinos in Las Vegas (hermetically sealed energy hogs in the high desert) can earn LEED Gold ratings!
While LEED does encourage operable windows, it does not emphasize cooling that also produces sensory delight such as indoor breezes, the stark play of light and shadow through windows, or the dappled light and delicious drop in temperature provided by a tree canopy.
These biases translate into policymaking that ignores passive cooling. Los Angeles City Councilmember Eunisses Hernandez wants a study into the feasibility of mandating an air conditioner or central air in all rentals. "The ability to cool one's home cannot be considered a luxury and rather must be treated as a necessity," she said in her motion. She's right, but a more sustainable approach long-term might be to mandate the greenery and the courtyard and window configurations that bring down temperatures, create lovely living spaces, and obviate the need for costly electric assistance except in the most extreme heat.
Ben Stapleton, Executive Director of USGBC-LA, which operates independently from the national GBC, says he hopes for a shift in thinking about cooling, especially as we electrify more and more buildings, adding energy loads to the grid.
LEED is currently updating its ratings, due in the coming months. "We need to more clearly and directly link to passive cooling strategies in LEED and in building codes," says Stapleton.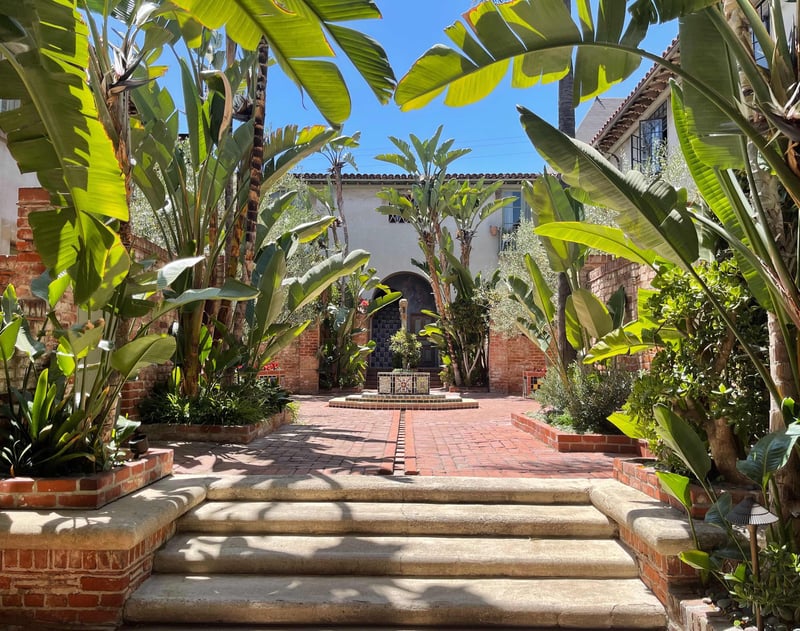 Villa d'Este, West Hollywood, 1920s, was cooled with cross ventilation and greenery; photo by Frances Anderton
Tree Saver
Speaking of tree canopy, citizen campaigners in Beverly Hills have thwarted the cutting down of the remaining 36 of almost 90 vintage ficus trees slated for removal as part of a sidewalk restoration project.
The Robertson Boulevard Special Task Force to save shade trees was started by a business owner named Wendy Klenk. Her group said that since the city began removing this arboreal shade canopy, business owners on Robertson Boulevard experienced "increased electrical bills, product damages from sun and heat exposure, increased indoor temperatures, [and] environmental and noise pollution."
The city contended that the ficus trees, with their roots pushing up the sidewalk, are a hazard to pedestrians and would be replaced by shade-giving crape myrtles.
But the new canopy will take its time to manifest and in the meantime, things are getting hotter. "We're incredibly worried about the trees," Klenk told the LA Times. "Especially now with the heat, cities everywhere are saying they need to preserve our mature trees not only for the shade canopy but the cooling effect on the ground… so we were thrilled."
The article notes that the residents of Beverly Hills are among the lucky Angelenos who even have a tree canopy. People in less affluent parts of town suffer higher temperatures and poorer air quality due to the lack of trees.
Note: I should add that I recently met the BH task force's lawyer Jamie Hall. He is helping with the appeal to preserve the Beverly Hot Springs, to be demolished to make way for a new development, and you can hear him on this episode of Greater LA.