Dear DNA friends,
Hope you are doing well. I was, until I got wind of the possible demolition of a Los Angeles treasure. Read on for that story or hop straight to all the fun Design Things to Do.
Trouble in Paradise
In a region brimming with health and wellness attractions, one of the loveliest tonics is Beverly Hot Springs, the spa at Beverly Boulevard and Oxford Avenue in Koreatown, atop an artesian well that pumps out 250,000 gallons of hot mineral water daily. The baths attract working people and Hollywood celebs. No less an authority than the editors of Goop "love to come and soak in the hot and cold therapeutic mineral-water pools" at BHS.
For a couple of blissful hours you can take leave of the office or trafficked streets, and wallow in warm waters in a faux grotto, low-lit and quiet but for a bubbling fountain, for $45. You can also add pricier treatments like "bodycare," delivered by expert Korean masseuses who slather your body with crushed cucumber, warm mud, milk, and oil, while giving it a good pummeling.
But the main attraction is the soft, alkaline waters. This spring was one of many in the region that held "sacred, spiritual and healing qualities" for Native Americans, writes Patt Morrison. It was then "discovered" by oil drillers in the late 19th century, became a source of hot water for locals until the city put in water mains in 1915, after which it was bottled and sold as "Wonder Water." In 1984, reported the LA Times, Yang Cha Kim, a doctor of Oriental medicine, and her husband, Chang Bum Huh, a weightlifter for Korea in the 1964 Olympics, bought the site and turned it into the thermal spa, now owned by Eddie Huh.
Now it appears that this restful oasis, and Korean-American cultural treasure, is to go. The spa is to be torn down, and the water source capped, to make way for 101 units of housing and retail from developers Manhattan West, with architecture and landscape by Irvine-based M3 Architects and Brea-based SQLA. It seems the project had been working its way smoothly through approvals and just recently caught the attention of devotees of the spa, who have been raising awareness online. (This Letter of Determination, a first step to building file:///Users/francesanderton/Downloads/Spring_letter-1.pdf –– makes many mentions of the 70% density bonus enabled by the low-income units, no mention of the spa.)
To be clear, increasing the supply of housing in Los Angeles is essential and this project promises 15 dwellings for very low-income renters. It is possible Beverly Hot Springs is seen as a dispensable luxury, or just another spa among many. But it is perplexing that the developers will not incorporate it or at least the property's geothermal waters into its retail offerings and amenities for residents. If that does not fit with their plans, one wonders if it would be possible to pipe the waters to another spa owner or better yet to a public facility for all to use.
This gusher is nature's gift to Angelenos, and ideally would be central to community life as with spas everywhere, such as the geysers of Iceland, the Onsen of Japan, or the mineral rich waters in my hometown of Bath, England, named for the resource enjoyed by locals from Roman times to today.
I have reached out for clarification about the status of Beverly Hot Springs, from the owner, the developers, the architects and the district councilman Hugo Soto-Martinez. The developer told me he did not want to discuss it. A spokesperson for Soto-Martinez said he does not comment on private developments, though if the spa goes they plan to commemorate it with a plaque. The project has not yet been fully approved, however, and it is being appealed. Next comes a PLUM Hearing, yet to be scheduled. Here is a Council File with documentation on the project, including the appeal application.
Meanwhile, the LA Conservancy is taking notice. Adrian Fine, Senior Director of Advocacy, says they have been hearing from concerned citizens. "While it's not a historic building, it certainly is a unique and rare environmental resource as well as cultural tradition and form of intangible heritage," says Fine.
So enrich your summer staycation with a trip to Beverly Hot Springs. It might not be there for much longer.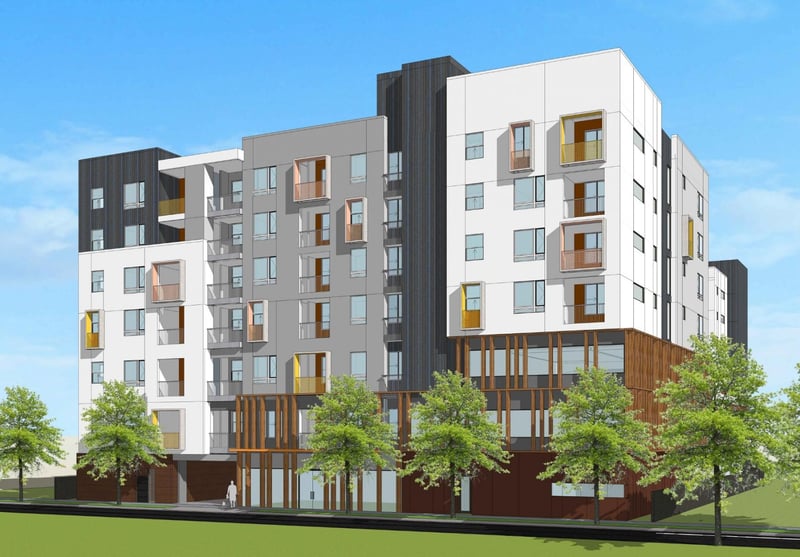 A seven-story building with 101 apartments is proposed for the Beverly Hot Springs site.