Design Things To Do


MADE in Beverly Hills
May 3 - 7
Starting this Wednesday, with an opening party at the legendary Greystone Mansion, is a four-day, ticketed bonanza in Beverly Hills, MADE in Beverly Hills. You can visit landmarks by Paul Revere Williams, drive around Trousdale Estates and tour Edelweiss Chocolates, "the oldest chocolate shop in Los Angeles and the one that inspired the famous chocolate-factory scene from I Love Lucy."
The line-up of great speakers includes Janna Ireland, photographer and author of Regarding Paul R. Williams; Alan Hess, on "Googie Modern: Union 76 and Beyond," and Rose Apodaca, co-owner of A+R design store and author of a book about Fred Hayman, founder of Giorgio Beverly Hills. Apodaca will talk about "The Rodeo Drive Revolution 1960-1981," and how the onetime bridle path morphed into three blocks of high fashion. (You can get a taste of her story on this episode of Rodeo Drive: The Podcast, hosted by fashion connoisseur Bronwyn Cosgrave, a series I helped edit.)
Click here for more details (and read more about MADE in Beverly Hills in my previous newsletter.)

Whiff in the Air
Scent Fair LA, Craft Contemporary, May 5 - 7
Smell plays a huge part in our designed environment. Walt Disney Imagineers create emotion through appealing to the five senses – sight, sound, taste, touch, and smell. Realtors add atmospherics in homes for sale in the form of just-brewed coffee and fresh-baked cookies on the granite countertop. Right now our post-rain spring blooms scent the air, sometimes so strongly that we are less aware of the urban smells of asphalt and gasoline.
So now comes an event devoted to tickling the nosebuds: Scent Fair LA, a weekend fair at the always interesting Craft Contemporary, showcasing "artisan, independent, and experimental scent practices." Presented by The Institute for Art and Olfaction and Darin Klein & Friends, they aim "to introduce new audiences to the world of highly conceptual scents," by cutting-edge fragrance makers who will exhibit and sell their work, and give hands-on workshops.
Who knows if "conceptual scents" will delight or repel, but I'd love to give them a sniff.
Click here for details.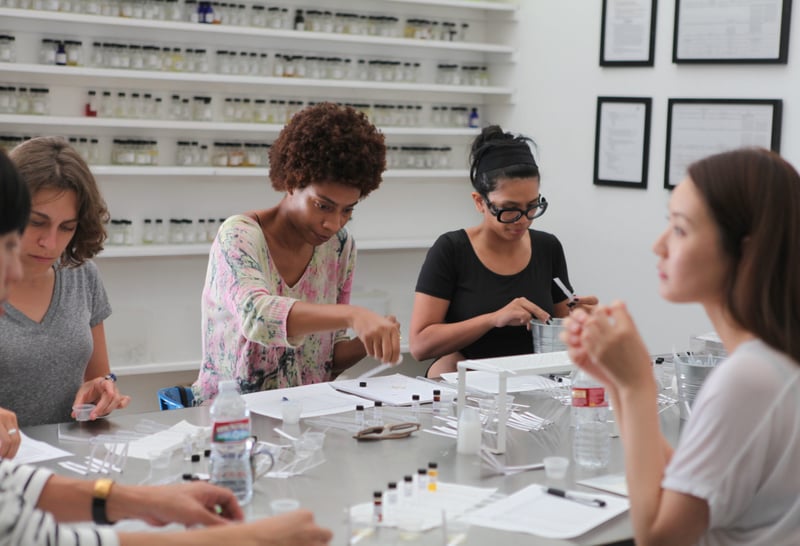 Art and Olfaction workshop, image courtesy Scent Fair LA
The Fashion of Home
Legends 2023, LCDQ, May 9 to 11
If you like Hollywood glam, then you will probably like Legends 2023, the annual gathering for the denizens and designers of the La Cienega Design Quarter at La Cienega and Melrose. This year the theme is "The Fashion of Home," meaning fashion's influence on home design and architecture.
To that end, one of the storefront window displays – that are a staple of Legends – promises to be an imaginary dressing room for Sarah Jessica Parker in the window of Mecox on La Cienega Blvd. It will showcase the wallpaper line that she created for Wallshoppe with designer Eric Hughes, which bursts with color, patterns and florals. One of the designs, featuring oversize teal-carnations, already got its moment in primetime. It embellished the walls of Carrie's apartment in the recent And Just Like That…, the revival and a sequel of the famed HBO television series Sex and the City.
At a Keynote at Una Malan, Jill Sieracki, managing editor of Galerie magazine, and designers Jeremiah Brent, Noz Nozawa, Adam Bram Straus and Scott Richler will chew over how the runway provides endless ideas, expressed in the homes and stores of fashion design legends like Coco Chanel, Karl Lagerfeld, and Yves Saint Laurent.
Offsite attractions include the launch of a lighting collection by Cesar Giraldo at a luxury home in Bel Air. Having recently been on a panel with Cesar, I can attest that he's an extremely entertaining person to be around so this will probably be a hot ticket.
The events at Legends are mostly ticketed, but you can find free booksignings and product launches while walking along La Cienega and enjoying its windows.
Click here for details.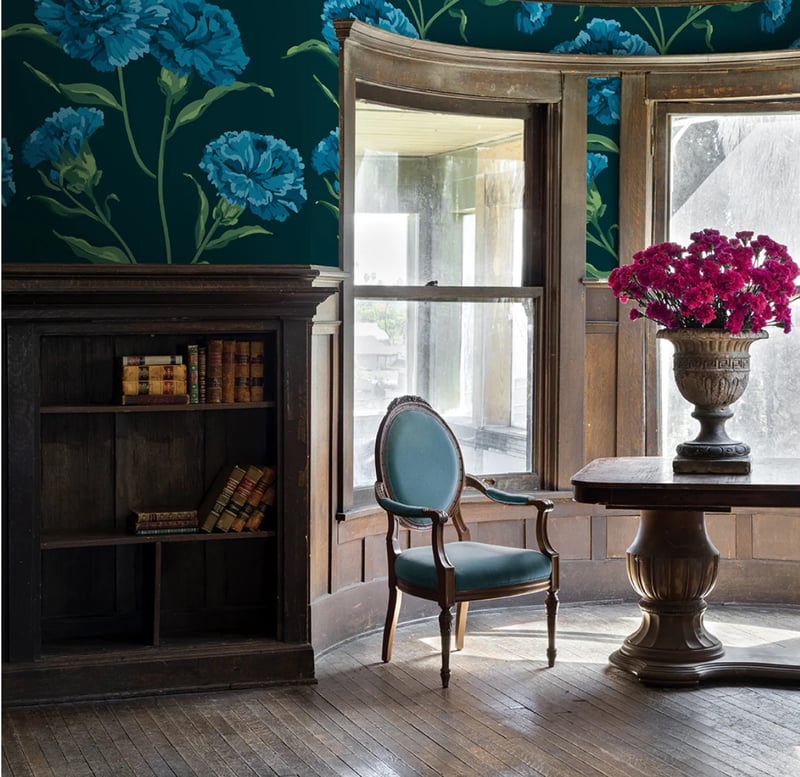 Wallshoppe paper with teal carnations
It's a (W)rapper!
AIA/LA ArchFest, May 17 - 21
If you've been following this newsletter closely, you will know that I've been quite taken with (W)rapper, the new office tower with an abundance of devilish personality, designed by architect Eric Owen Moss and situated south of the Expo line in the Jefferson/La Cienega area. The building elicited quite a heated response, and now AIA/LA will host a tour of the building, during which I will sit down with Eric and debate aspects of the design that came under scrutiny, such as it's mighty exoskeletal structure, whether the building is a sustainable as it claims, and what is its point in an age of declining need for creative office space. It's going to take place on a Saturday morning and should be a bracing way to start the weekend.
Better yet, this is not the only building opening its doors to the public. The (W)rapper tour is just one of several hosted by AIA/LA over the course of five days. Sign up also to visit sites including EOM's new A+M house, the Goldstein Estate, La Plaza Village, and the Hilda L. Solis Care First Village designed by NAC architects, and providing 132 units of interim housing made from repurposed shipping containers and 100 units in temporary portable trailers.

Click here for tickets.
Encompass
May 12
Also on the AIA/LA docket, designers and planners including Leslie Sydnor, Michael Anderson and Seleta Reynolds, will come together on May 12 to discuss the upcoming 2028 Olympic and Paralympic Games. While the planning for the games moves ahead with little public discussion, these designers want to make sure noone gets left out of the decision-making and the benefits. Talks will focus on how best to "elevate best-practices in community outreach and empowerment to ensure more equitable, healthy, and inclusive outcomes for the big events."
Click here for details.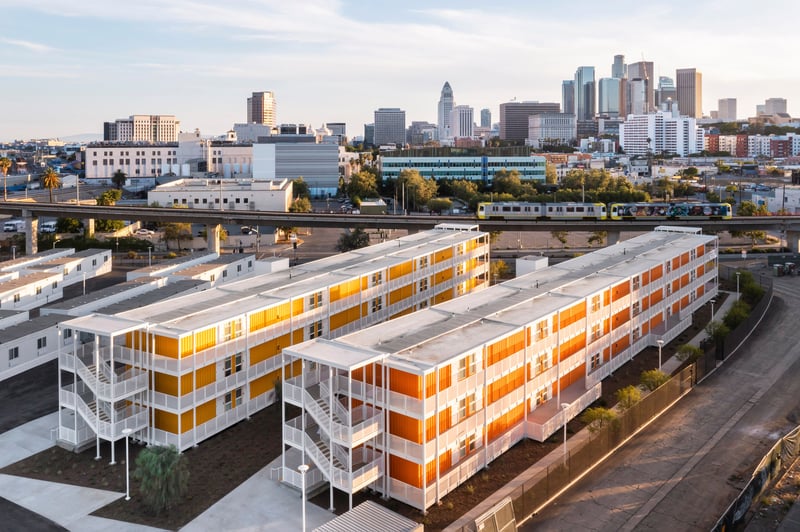 Hilda Solis Care First Village, by NAC Architects, photo by Paul Vu
Conversing in Clay
LACMA, Closes May 21
Speaking of buildings that elicit a strong reaction….
Go to the Los Angeles County Museum of Art right now and you can see change in process. Amidst a forest of scaffolding the new building is emerging, an amoebic form in concrete and glass designed by Peter Zumthor. Its non-linear plan and organization is intended to break from the traditional encyclopedic museum. Instead of permanent, chronological and typological displays of the museum's collections, the concept is that curators will pluck objects and artworks from different collections and juxtapose them in ways that tell a new story, or illustrate a theme.
It is possible right now to get a little taste of what this means in a small show currently in the Resnick Pavilion called Conversing in Clay: Ceramics from the LACMA Collection, curated by Rosie Mills and Staci Steinberger, both in LACMA's department of Decorative Arts and Design.
The idea was to place contemporary ceramics in the museum's collection alongside antique pieces, demonstrating the ways in which potters and artists "converse" with each other, whether it be through form and material or symbolic meanings.
This didactic but interesting approach is exemplified in the Century Vase, produced for the 1876 Centenary of the founding of America, and decorated with the tropes of the time: "George Washington, buffaloes, happy Native Americans," in the words of Wendy Kaplan, head of Decorative Arts and Design. This vessel is counterpointed by a similarly shaped vase commissioned by LACMA from Roberto Lugo, a contemporary Puerto Rican-American potter and ceramicist. "He interrogates the history portrayed in the nineteenth-century vase, highlighting the ongoing violence of American colonialism and its legacy," explain the curatorial team. "His depiction of iconic Black cultural figures on porcelain challenges assumptions about which historical figures deserve commemoration."
This show closes on May 21 but others have opened at LACMA, and one that looks especially interesting is Women Defining Women in Contemporary Art of the Middle East and Beyond. I'll report back after I see it.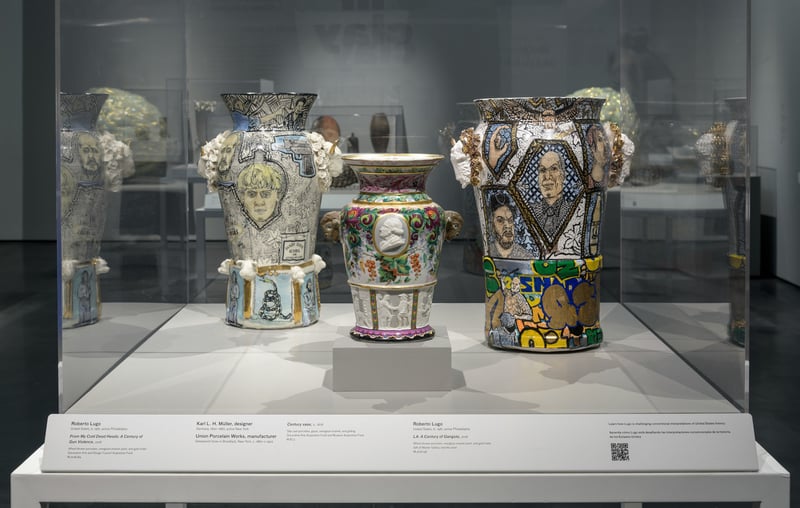 Conversing in Clay: Ceramics from the LACMA Collection, photo ©Museum Associates/LACMA
The Future of Design
SCI-Arc: Spring Show 2023
Through May 10
'Tis the season for design schools to let the world witness the work of their hardworking grads and undergrads. It's always interesting to see what tomorrow's designers have in mind. At the Southern California Institute of Architecture (SCI-Arc) in the Arts District, you can check out the digitally conceived, laser cut models, immersive multimedia installations, and interactive experiences that have become synonymous with an architecture education at the experimental school.
O-Launch: Otis College of Art and Design
May 12-14, Public opening: Saturday, May 13
Otis College of Art and Design opens its doors to the public to view works across the design disciplines, including product, graphics, toys and fine art. What made last year's show especially good was the fashion grads' show, out on a catwalk in the central quadrangle. Hopefully, they will do the same this year.