Dear DnA friends,
I hope you're doing well and enjoying the fresh-washed Los Angeles after the rains (before the next downpour!).
Coming up, new homes in old malls, Pritzker Prize news, and that fabulous fur on Puss In Boots.
But first, with March being Women's History Month, let's tell a little her-story.
You've heard that Shakespeare's plays may have been written by a woman. How about the notion that a formidable female was the driving force behind innovative house design in Southern California, before Arts & Architecture editor-in-chief John Entenza?
Mary Louise Schmidt was an entrepreneur and architecture enthusiast who created a blockbuster exposition of model homes designed by luminaries including Paul R. Williams and Richard Neutra. Schmidt and the houses she helped create are now the subject of A Women's Project: Mary Louise Schmidt and the 1936 California House and Garden Exhibition, a self-guided trail, research and public talk sponsored by Friends Of Residential Treasures: LA (FORT: LA.)
Schmidt, born in Denver in 1890, arrived with her family in Los Angeles in 1911 and threw herself into the design industry. In 1914, she opened a downtown "Architects Building," which gathered all the latest building materials under one roof, a novel concept. She penned, with her sister Florence, a Construction Primer in the real estate section of the LA Times. Then, as the US government sought to stimulate single-family home buying — for the white middle class — following the Depression, she created, with the help of Florence and a small army of young women, the ambitious 1936 California House and Garden Exhibition: six model homes around a landscaped central courtyard on a large lot south of Wilshire Boulevard between Spalding Avenue and Ogden Drive.

Schmidt tapped notable designers to create period revival and modern style dwellings, utilizing the latest materials, technology and creature comforts: Richard Neutra (Plywood House), Paul Revere Williams (French Cottage and Better Homes Cottage), Winchton Risley (California Cottage), Edla Muir and John Byers (New Orleans House), and Joe Estep and Arthur Kelley (English Cottage). The most avant-garde was Neutra's flat-roofed, industrial-looking Plywood House, with ribbon windows, a sun deck, and soft lighting cleverly built into the overhangs. It was described by LA Times correspondent Alma Whitaker as "highly modernistic and essentially masculine." The California Cottage was the popular favorite.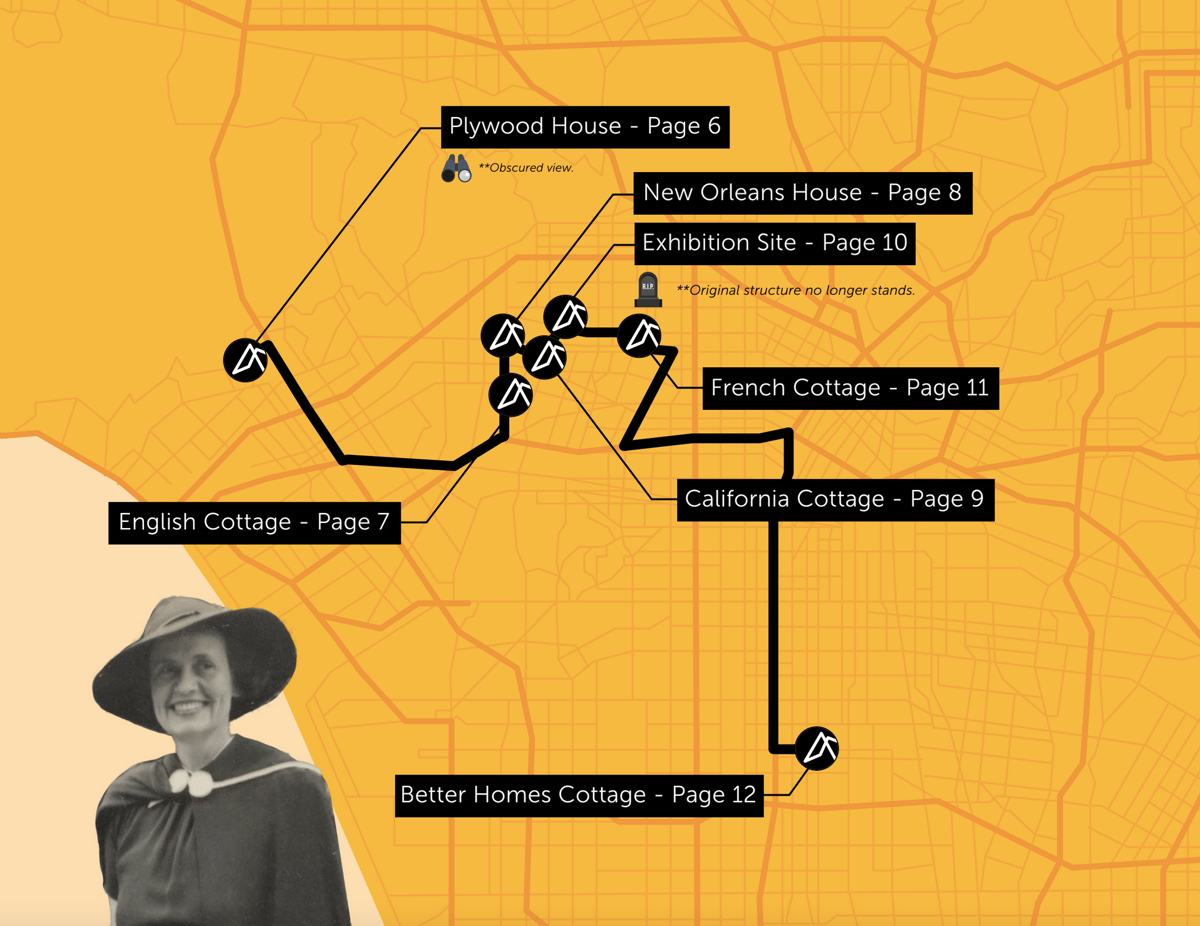 FORT trail, courtesy of FORT
The California House and Garden Exposition ran for almost two years and attracted tens of thousands of visitors. Afterwards, each of the homes was raffled off and moved to a permanent location, and Schmidt went on to establish an Architect & Engineers Service business. In 1957 she opened a very successful architects' Building Center, where, in 1959, she showcased work by Paul R. Williams.
Then she faded from public memory, upstaged in history by John Entenza, creator of the Case Study House program, which firmly advocated progressive design over the mix of nostalgic and modern styles that Schmidt embraced. Entenza most certainly was aware of her and the housing exhibition, however. Historians Andrea Thabet and Jenna Snow note that his father's law partner, Stella Gramer, acquired the Plywood House and plopped it on a lot in Brentwood. They add that through a recommendation from Gramer, Entenza began working as the temporary editor of California Arts & Architecture magazine — which he then bought, renamed and transformed "into a champion of mid century modern design." But in her time, said her grandson, Schmidt was "a fulcrum of California's building industry."

All of this has been unpacked in a research paper and a self-guided tour of the exteriors of the extant model homes by Thabet and Snow, sponsored by FORT: LA. The duo got access to the Schmidt family archives. Their work adds to scholarship on California's housing exhibitions by Ruth Wallach. FORT founder Russell Brown says his group's "prime objective is to highlight the neglected corners of Los Angeles's architectural history. Mary Louise Schmidt's fascinating life and undeniable influence should not fade into obscurity." On Tuesday, March 21, I will sit down with Thabet and Snow at Soho Home in West Hollywood, the interiors arm of Soho House, for a conversation about Schmidt and her role as a trailblazing woman in the world of male architects. The event is sold out, but we have three spaces for readers of the KCRW/DnA newsletter. If you want a seat, send an email with the subject 'KCRW DNA' to trails@fortla.org.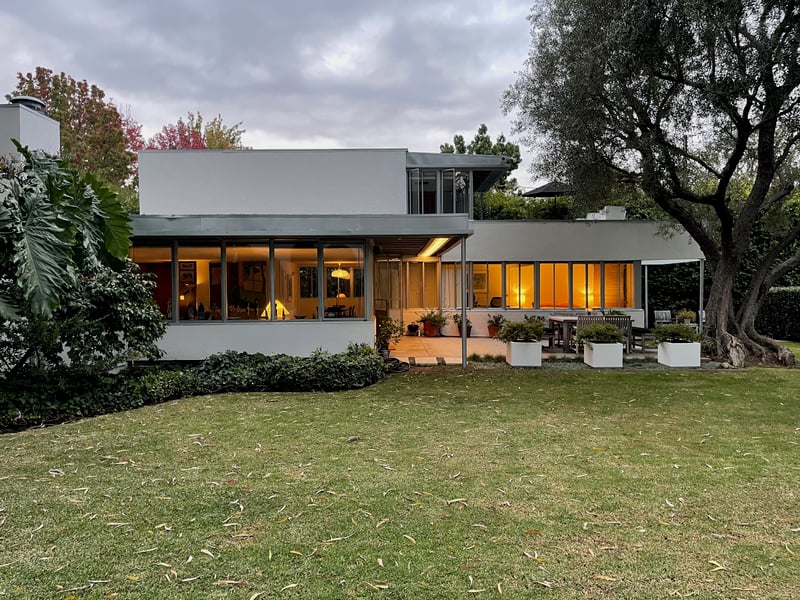 Plywood House in Brentwood today
Pritzker Prize Goes to David Chipperfield
In breaking international architecture news, the illustrious Pritzker Architecture Prize has been awarded to David Chipperfield, British-born architect of "understated but transformative" buildings, including the 2013 Museo Jumex in Mexico City and adaptive restorations of the Neues Museum (Friedrich August Stüler) and the Neue Nationalgalerie (Ludwig Mies van der Rohe), both in Berlin, that carefully and creatively blend old and new.
Many years ago, I worked in a small gallery connected to Chipperfield's early office. It had all-white walls and staff dressed in all-black, who pored over drawings on flat tables (in pre-computer days), making barely a peep of sound — like monks laboring on illuminated manuscripts. Perhaps this monastic office culture contributed to designs that are notable for exquisite detail and a sense of permanence and calm.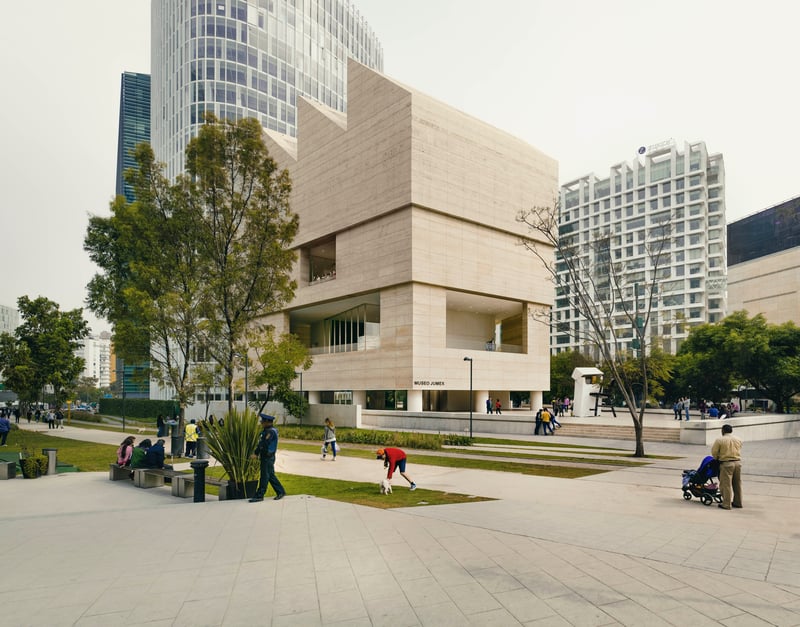 Museo Jumex, photo by Simon Menges
From Retail to Residential
While on the topic of adaptive reuse… did you read the sad story about the demolition of the 1919 Hotel Pennsylvania in Manhattan following a thumbs down for designation as a landmark from the city's Landmarks Preservation Commission? This Commission, ironically, was itself borne from the ashes of the razed Pennsylvania station once right by the hotel (both buildings were designed by McKim, Mead & White). As The Times' Don Barry writes, this wasn't just any building. It was once the "largest hotel on earth, with 2200 rooms, shops, restaurants, its own newspaper and a telephone number, immortalized by the bandleader Glenn Miller with a 1940 song "Pennsylvania 6–5000."
It was not an architectural star. But it was a solid building, as well as a repository of memories, and a repository of stone and wood and metal; in sum, large amounts of embodied carbon that we now know should not be willfully released into the atmosphere. Today preservationists, environmentalists and architects have found common cause in adaptive reuse, seeing creative opportunity in existing buildings (explored in this article I wrote for Sierra magazine), especially post-pandemic as office buildings lie vacant. New York, like Los Angeles, needs more housing. This hotel was surely purpose-built for conversion to studio-living. It seems like the LPC needs to update and expand its definition of what warrants preservation. This is the same Commission, incidentally, that recently refused to allow the fashion designer/filmmaker Tom Ford to move the front door of his Paul Rudolph-designed Manhattan home, by 19 inches.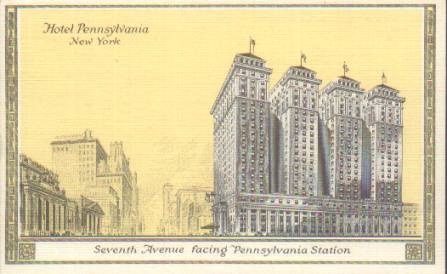 Vintage postcard of Hotel Pennsylvania by Penn Station
Which brings me back to Southern California and a building type that is experiencing an even shorter lifespan than the Hotel Pennsylvania, the region's suburban malls, so popular in the postwar years, and now rendered obsolete by Amazon and streaming TV. Some malls are being repurposed as offices, but some are being reconceived as housing. As reported by Ryan Fonseca and Hannah Fry in the LA Times, the city of Westminster plans to repurpose its defunct mall into up to 3,000 residential units and 425 hotel rooms, amidst 17 acres of green space. Twenty miles southeast, the Village at Laguna Hills — 1,500 apartments, a hotel, office space, green space and new retail stores — will replace the abandoned Laguna Hills Mall.
Some of these developments fully replace the dead mall. However, mall structures themselves, which are often designed to be mini-communities configured around open courts, akin to Southern California's socially centered housing (explored in my book, Common Ground), seem to lend themselves naturally to residential living, demonstrated in this study by the downtown architecture firm Omgivning. Plus they come with tons of parking. Of course, the neighbors have to approve, but it may be harder for them to push back when some state Assembly and Senate bills take effect on July 1 that "make it easier to build housing on land currently zoned for commercial use." Fonseca notes that 1 billion square feet of retail space sits empty, so this change of use could be a win-win for dead retail and much-needed residential.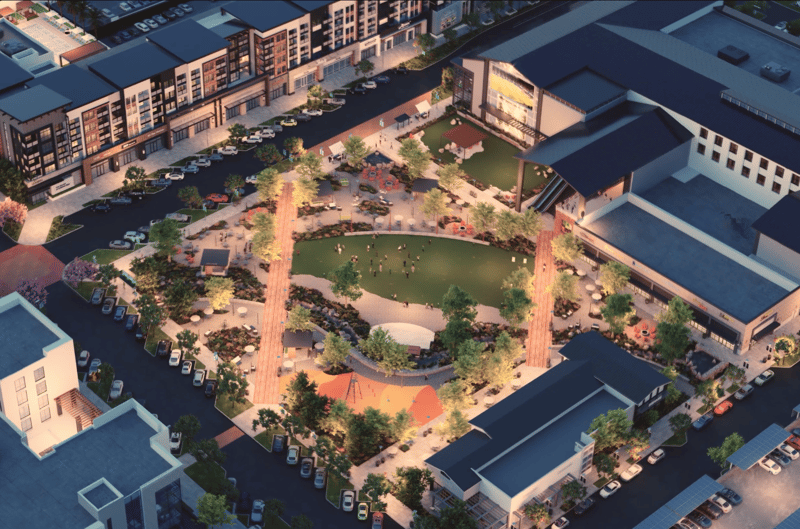 Village green at Laguna Hills, screenshot from developer Merlone Geier promotional video