Dear DNA friends,
Hope you are doing well, especially now that spring has sprung.
Read on for some must-do Design Things to Do. But before that, a few thoughts on mass transit, LA-style, and a "cyberpunk" building you can see from the train.
Eyes on the Train
As a fan of buses and trains, it was dispiriting to read the LA Times report on the drug problems and decline in ridership on Metro, the mass transit system that is intended to get us out of our cars, and into a future Los Angeles. I use the E (Expo) Line a fair amount, and also the Purple Line, so anecdotally I can attest to the fact that, yes, relative to subways in more concentrated cities, the trains do seem to have a disproportionately high number of riders whose behaviors make the trains and buses feel unsafe, but there are solutions that may emerge as the system builds out.
As discussed on Press Play, Metro wants to expand the numbers of in-house transit officers (though faces pushback for racial justice reasons). They have an "ambassador" program but I don't recall seeing many of them.
But Metro needs to do everything in its power to increase what the famed urban critic Jane Jacobs called "eyes on the street," or "eyes belonging to those we might call the natural proprietors of the street." By this, she meant people in adjacent homes and businesses as well as passersby going about their daily lives who collectively maintain social order and a sense of safety.
This could mean businesses at train stations helmed by humans — coffee bars and flower vendors, for example. Last I spoke to Metro, it cannot allow that, for maintenance reasons. It could mean more "ambassadors" available to check tickets and assist people with directions, bags, prams, wheelchairs, and bikes.
It also has to mean an increase in housing and commerce close to the train stations. This is gradually appearing in patches along the lines, exemplified in the new Ivy Station in downtown Culver City. These "transit-oriented communities" are being designed now by many developers, planners, and designers, and could contribute to improving another vital cog in the mass transit experience: the riders' walks from the station to home or work, or "first and last mile," which currently can be long, lonely, unlit, and especially unsafe for women (whose needs were surveyed by Metro a few years back).
The numbers of "eyes" increase with greater numbers of riders on the trains and buses. Unfortunately, the system is too slow to be a viable option for millions of Angelenos. A transportation planner I spoke with recently pointed out that the E Line would be much more attractive to people if it ran an Express train which could zip people from the Westside to work downtown and vice versa. With limited tracks and the roller coaster design that requires stopping at surface streets, it cannot do so, and thereby consigns the train to being a chugger-chugger for people with time on their hands, rather than a speedy commuter service.
Scene from the train: (W)rapper
Having said all that, let's consider the pluses of LA's public transit. Gone is the stress of sitting in traffic and struggling to find parking. In its place is time to sit and do emails on the phone or people-watch or — on the above-ground light rail and buses — take in the sights of Los Angeles such as, from the E Line, (W)rapper!
You cannot miss this newly completed "creative office" tower looming over the rail line near Jefferson Station at La Cienega, designed by Eric Owen Moss. It consists of a glass tower with 17 floors of different heights held up, like a hand holding a box, by a lattice of concrete bands that, writes Guardian architecture critic Oliver Wainwright, "wrap around the glassy hulk, swooping past corner windows that jut in and out like broken teeth." This structure means the interiors are completely free of columns.
Wainwright calls (W)rapper "a menacing cyberpunk creation." He sees the lack of columns inside as a pointless conceit, necessitating chunky exterior bands that block the views and are environmental gluttons, utilizing three times as much steel as a typical steel-framed high-rise. The "monstrous erection" is "a monument to its designer's ego." Moreover, "creative office" space is itself obsolete since the pandemic caused a drastic drop in the need for it.
In principle, he's right about all of the above, but the critique misses the fact that for all its sins, (W)rapper (wrapper/rapper!) jumps out as one of the most brazen new towers to come into being in Los Angeles in recent years. After all, have you seen the rest? Right now, DTLA looks like DT Anywhere thanks to many deeply characterless, shiny stumps planted here by corporate investors. What Moss offers is the pure theatricality that's a natural in the dream factory, a "cyberpunk" continuum of LA's rich legacy of fantastical buildings created amidst the mundane by barnstorming entrepreneurs and designers with, yes, giant egos.
As for its outmoded use, Eric Owen Moss has spent the last four decades working on highly creative, adaptive remodels of light industrial buildings in the nearby Hayden Tract in Culver City, for his longtime client, the late Frederick Samitaur Smith. In that sense, he's already earned his environmental sustainability spurs. I'm sure he could figure out how to turn (W)rapper into a high-rise residential should the need arise.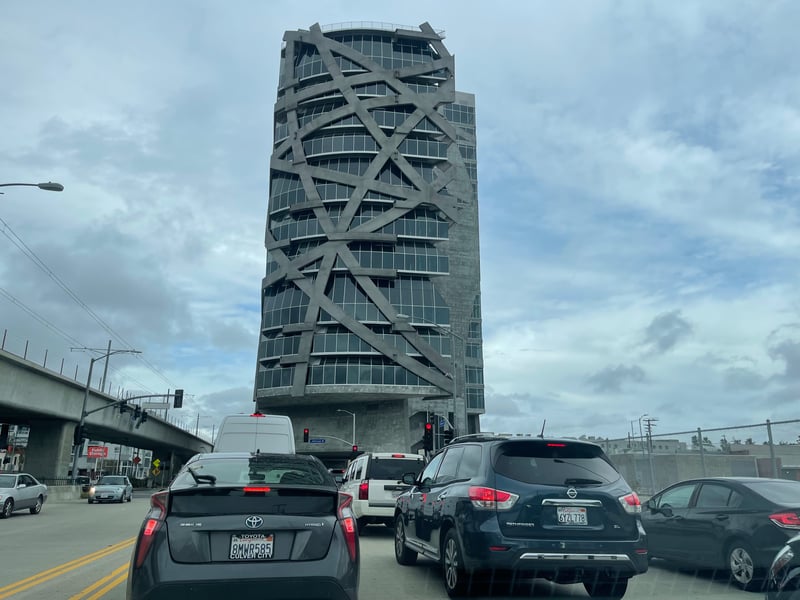 The (W)rapper, designed by Eric Owen Moss, photographed from my car
Bowie in the USSR
Wende Museum: David Bowie in the Soviet Union/
Vietnam in Transition, 1976 - Present
Opening Saturday, April 1
Speaking of theatricality… in 1973, David Bowie and his longtime friend and collaborator Geoff MacCormack traveled through the Soviet Union on the Trans-Siberian Express. They were returning from Japan to the UK overland because Bowie hated flying. Along the way MacCormack took photographs and Bowie made a film, The Long Way Home, documenting their journey, the people they met, and their time in Moscow during a May Day Parade.
Now, the photos and the film go on display in David Bowie in the Soviet Union, a show at the Wende Museum, alongside another show that promises to be very interesting: Vietnam in Transition, 1976-Present.
This "museum of the Cold War" is one of my favorite cultural destinations in Los Angeles County, for its manageable scale, its appealing design — the museum is in a former armory in Culver City redesigned by the composer/collector/designer Michael Boyd — and for its unusual and yet highly relevant exhibitions and events, exploring "social, political and cultural change" (Wende, a German word, means "turning point" or change). Just consider Ukraine. Previous exhibitions and public events include, recently, a riveting show about Mao's Red Guards, who purged and imprisoned the intellectuals of their parent's generation in a terrifying, violent version of today's cancel culture; and a conversation with Cuban architecture historian Eduardo Luis Rodriguez about the Modernist landmarks in Havana that now desperately need conservation.
Everyone is invited to the public opening of the two shows, on Saturday, April 1, from 11 AM - 5 PM.
Click here for details.