Dear DNA friends,
Theaters are closing, movie houses are going dark. But one performance space aims to "live long and prosper," with some help from Spock.
Before launching into this month's fun Design Things to Do, including a talk with "Take my Picture" Gary Leonard, let's celebrate the opening of the UCLA Nimoy Theater, formerly The Crest Theatre, now revived with support from Susan Bay Nimoy, widow of Leonard Nimoy (who passed in 2015) and a filmmaker, actress, and philanthropist.
Behind a jewel of a facade on Westwood Boulevard, south of Wilshire just yards from The Hammer, lies a building with an only-in-LA history. It was established in 1940 by Frances Seymour Fonda, wife of Henry and mother of Jane and Peter, as a live performance space. Then it became a single-screen movie theater where Angelenos could watch wartime newsreels. In the postwar years, over the course of multiple ownership changes, the Crest ran first-run foreign films, then independent Hollywood films and horror flicks.
In the 1980s, Pacific Theaters and Disney purchased and remodeled the theater, and here's where it turns into a meta-design story, and becomes the period when the Nimoys developed a special connection to the venue.
The original building was conceived "in an austere Moderne style" by architect Arthur Hawes, per the LA Times, but the late theater designer Joseph Musil, famed for the fabulous restoration of El Capitan, decided to add period sizzle to the building. He created a themed Art Deco Revival makeover with, notes the LA Conservancy, an "intricately stepped façade, the auditorium cyclorama depicting Hollywood circa 1939, an elaborate sunburst light fixture, hand-painted ceilings in the lobby, and etched-glass lobby exit doors." The 230-foot-long cyclorama, rendered in fluorescent paint by scenic artist Bill Anderson, depicts such vintage locations as Rick's Restaurant, Cafe Trocadero and RKO Pantages steeped in klieg light and swarming with behatted patrons. Following the renovation, the theater opened with a hit movie: Three Men and a Baby, directed by Leonard Nimoy.
In 2008 this theater was designated a historical landmark. Now, the murals have been restored by a team at UCLA that has rehabilitated the Musil-designed art deco elements, and enlarged the entrance lobby to include a new bar, and, over the entry doors in jazz age font, Spock's Vulcan blessing, "Live Long and Prosper."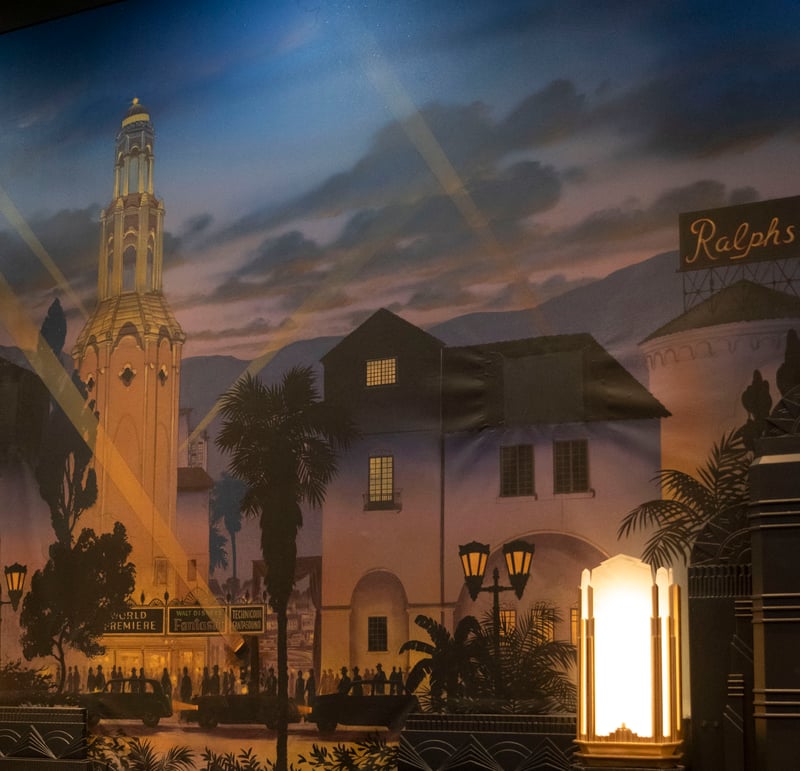 A portion of the restored cyclorama in The Nimoy; image courtesy CAP UCLA

There's something very optimistic about this re-opening, at the very time theaters and shops on thoroughfares and in malls in Los Angeles grapple with a decline in attendance, compounded by the pandemic. The Nimoy is one of three theaters operated by CAP UCLA (UCLA's Center for the Art of Performance); the others are Royce Hall and downtown's Theatre at Ace Hotel, formerly the lavish United Artists Theatre. It joins Royce Hall, The Broad Stage, and Geffen Playhouse on the Westside.
For Edgar Miramontes, Executive and Artistic director of CAP UCLA, this is not a glut, it is an opportunity! He told me he embraces the flexibility to "be a bit more adventurous with emerging, established and also local and international artists," and to think broadly, along with his colleagues in the arts, about the civic role of theater.
"It makes us think about the deepening of community ties with other presenters, with other performing arts centers, so that we can continue to lift up the artistic culture and ecosystem that has been completely eroded over the last couple of years. To me, the future is thinking about interdisciplinarity and how... it ties into our social fabric."
The Nimoy opens its 2023-24 season on Sept. 23 with Grammy-winner and poet J. Ivy. Click here for details and tickets.