Design Things To Do


Interconnected Relations
Boyle Heights Arts Conservatory (BHAC), April 20, 3-5 PM
Speaking of consumption…
East Los Angeles was once pastoral land irrigated by an oak tree-lined river. Then came industry, the channelizing of the Los Angeles River, the East Los Angeles Interchange (the intersection of the I-5, I-10, US 101, SR 60), and the construction of the Alameda Corridor — mammoth engineering projects that turned Boyle Heights into a choking, polluted place.
One of the ways residents protested was through street art and murals, but those also had an environmental and human health downside: toxic paint, especially from spray cans, can give artists extreme headaches and respiratory issues. So now an artwork has appeared that endeavors to send an environmental message, cleanly.
Interconnected Relations is a bold mural that depicts themes around climate change, clean air and environmental justice — and it reinforces that message by using smog-eating paint! It will be unveiled this Thursday at the Boyle Heights Arts Conservatory (BHAC). The mural was created by (BHAC) and US Green Building Council-L.A. (USGBC-LA), with support from The Energy Foundation. BHAC created a Mural Workforce Academy to paint the artwork, which was designed by artist Elleven Vargas, and taught the team of painters how to use and apply a non-toxic paint that is said to absorb harmful pollutants in the air.
BHAC's longer term goal is to create jobs implementing environmentally friendly murals throughout Los Angeles. Their other long term goal is to further the impact of the Boyle Heights Resiliency Hub, newly founded at BHAC to supply people with information and resources in the event of earthquakes, extreme heat, and flooding.
Hence, Interconnected Relations. Click here for details.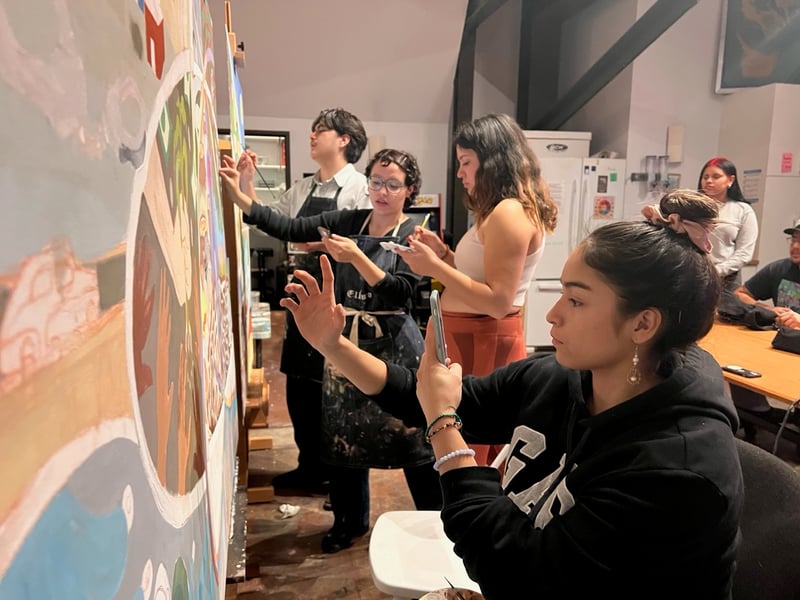 The Mural Academy at work, Image courtesy of BHAC

Earth Day
Saturday, April 22

Art of Nature
Interconnected Relations will get a second unveiling two days later at Helms Bakery District, where it is one of the attractions at Seeding The City: Nature's Story Saturday, taking place Saturday, April 22, from noon to sunset.
If you have read my two previous newsletters, you will have already read about this event, which I am helping produce. So feel free to jump ahead or read more about it, here:
The idea behind Nature's Story is to showcase representations of nature in a way that is accessible and gorgeous while educating visitors about how to sustain and amplify the flora and fauna that our incessant development has done so much to destroy.
The telling of those "stories" happens in kid-friendly workshops (Fairy gardens! Wild animals! Nature notebooks!), shows (Digital Flowers! Poster Territory!) and talks aimed at the older audience.
For example Joe Coriaty, architect, and Amber Richane, City of Santa Monica, will talk with me about City Hall East, the "living" extension to Santa Monica's City Hall (see image top of page). I'll ask them about how its systems — edible flowers, breathing walls, compost toilets, rainwater capture — are doing two years after its opening, and what are the takeaways for anyone wanting to make their own home or workplace more in sync with the environment.
I very much hope to see you at Seeding The City, this Saturday, April 22.
Click here for details.
Take Me to the River
Underland, closes April 22
Here is something else for that busy Earth Day: the last chance to catch Underland, an installation by environmental artist Lauren Bon and her Metabolic Studio, at the PRJCTLA gallery at the base of the 6th Street Viaduct.
Underland, whose title comes from Robert Macfarlane's book, Underland: A Deep Time Journey, "explores the entanglements that exist below the surface in urban environments." It is part of Bon's Bending The River series of "infrastructure artworks," that began, memorably, with Not A Cornfield in 2005-06, when she and her team transformed the Los Angeles State Historic Park into a field of waving corn. "We laid ninety miles of irrigation piping, planted corn sourced from and returned to the Native American community, and cleaned the soil of this abandoned train yard… and created the possibility for a deeper public consciousness and a sense of shared ownership of this historic floodplain."
Then Bon applied to the California State Water Board for a private water right and punctured through the concrete floor of the LA River to lay 300 feet of vitrified clay piping, with the aim of directing a small portion of the river flow – that would otherwise have been flushed out to sea – to an old tow yard by the river that she bought as part of the project. What happened, she says, is that latent vegetation came back to life. "Black walnut trees came back, willow came back, Mule fat came back."
She tells this story through an installation consisting of three triangular sections, made of asphalt from the tow yard, on which are projected images of this "underworld." There is something compelling about the ambition of Bon's didactic art, and its reminder that beneath the flood channel there is a rich flood plain. "There is this unbelievably fertile land, waiting for the unpacking of concrete," says Bon.
Click here for details.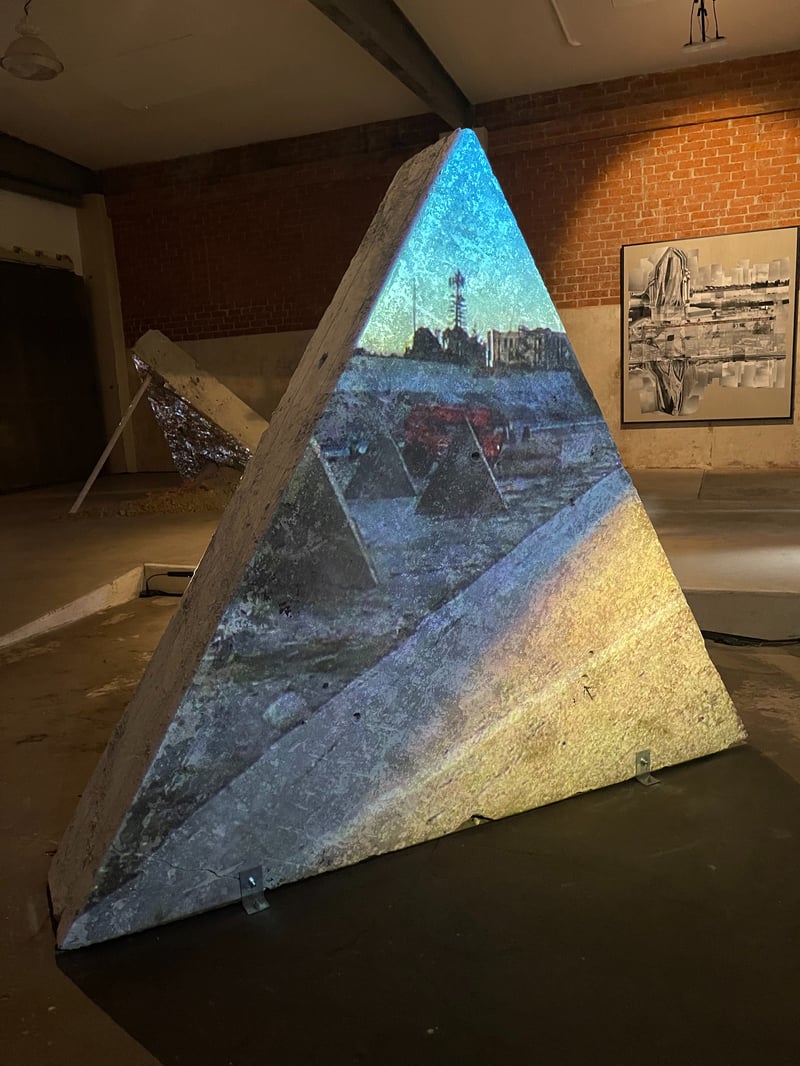 Underland, photo by Frances Anderton
Save the World
Saturday, April 22
See the art, consider the policies…
Angelenos who work in the trenches of reintegrating nature back into the urban fabric will get together for a conference about making Los Angeles more resilient to climate change. The 2023 Climate Action Symposium is hosted by the Southern California Chapter of the American Society of Landscape Architects (ASLA), and invites the general public to come hear from designers, community leaders, and academics including Mia Lehrer and Inglewood Mayor James Butts. They will tackle critical topics including greening schoolyards in LA (which in poorer neighborhoods are cruelly relentless fields of asphalt), sustaining an urban forest, cooling off the heat islands and enriching biodiversity through design and activism.
The symposium takes place at Magic Johnson Park Event Center on Saturday, April 22, 8:00 AM – 4:00 PM
Click here for details.
Books Galore
Saturday, April 22/Sunday, April 23
If you're not celebrating Earth Day (nor out in the desert at the second weekend of Coachella), you might be at the other annual event of the season: the LA Times Festival of Books, taking place at USC on the weekend of April 22 and 23.
There is, as always, a smorgasbord of author signings and talks. If I had to pick two personal favorites they would be the panels with Walter Mosley, whose Easy Rawlins mysteries taught me so much about LA's hidden histories, and Viet Thanh Nguyen, author most recently of The Committed, the sequel to his brilliant novel The Sympathizer, about a Vietnamese double agent following the war in Vietnam and America.
I'll be at the Festival on Sunday, April 23, at the Angel City Press booth (#119), signing copies of Common Ground: Multifamily Housing in Los Angeles. Do come to the booth and meet me and other ACP authors, including Patt Morrison, Harlan Lebo, Alan Hess, D.J. Waldie and Karla Klarin, new to the ACP stable and a longtime painter of the land and cityscape of Los Angeles, especially the endless expanse of the San Fernando Valley.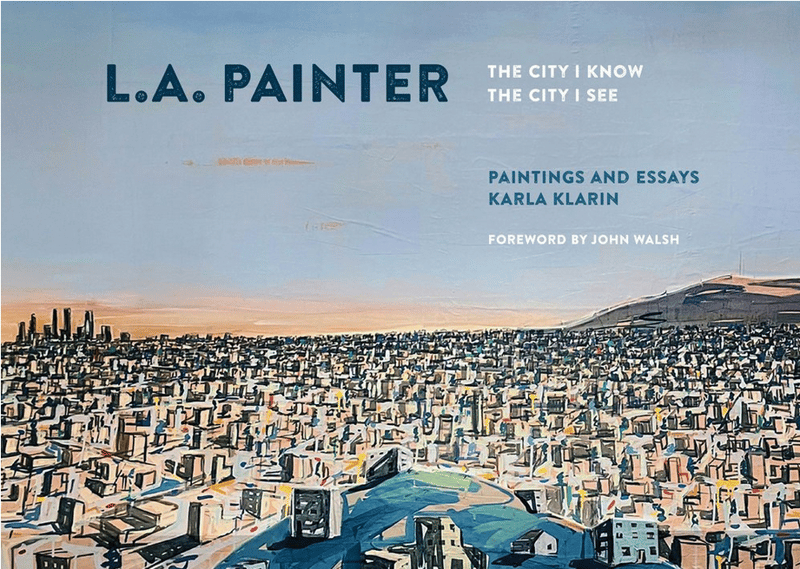 Cover of L.A. Painter, courtesy Angel City Press
Confronting L.A.'s Housing Crisis
LAT Book Festival, Sunday April 23, 12 PM - 1:00 PM
LA's housing challenges are topic for discussion at the Book Festival, at a panel hosted by USC. At noon on Sunday I will head over to Wallis Annenberg Hall and join Ken Bernstein, author of Preserving Los Angeles: How Historic Places Can Transform America's Cities and Liz Falletta, author of By-Right, By-Design Housing Development versus Housing Design in Los Angeles for a conversation with housing scholar and planner Todd Gish about "Confronting L.A.'s Housing Crisis," while drawing from L.A.'s underappreciated multifamily residential legacy. We will touch on the various factors contributing to today's housing shortage (for middle and low income residents), including zoning, whose pernicious effects following a well-intentioned founding, are laid out clearly in this commentary.
Click here for details.
Venice Community Housing Tour
Saturday, April 29
And speaking of housing…
The longtime nonprofit developer, Venice Community Housing, builder, most recently, of the impressive Brooks Scarpa-designed Rose Apartments, will raise funds to support its mission — housing for the underserved, with high architectural design — with a tour of significant sites in my very own neighborhood of Ocean Park, Santa Monica.
It includes the Baldessari House, shown, and the magical "3rd Street Compound," aka "Tales of the City South, a group of households on a four-lot site that has been transformed into an Edenic shared garden by the property owners Tomas Fuller and William Kelly and designers Sean Knibb and Jay Griffith. Their haven became an inspiration for Common Ground, and I will be at the compound during the VCH tour, talking about my multifamily housing discoveries and signing books, which will be given to ticket buyers.
Click here for details.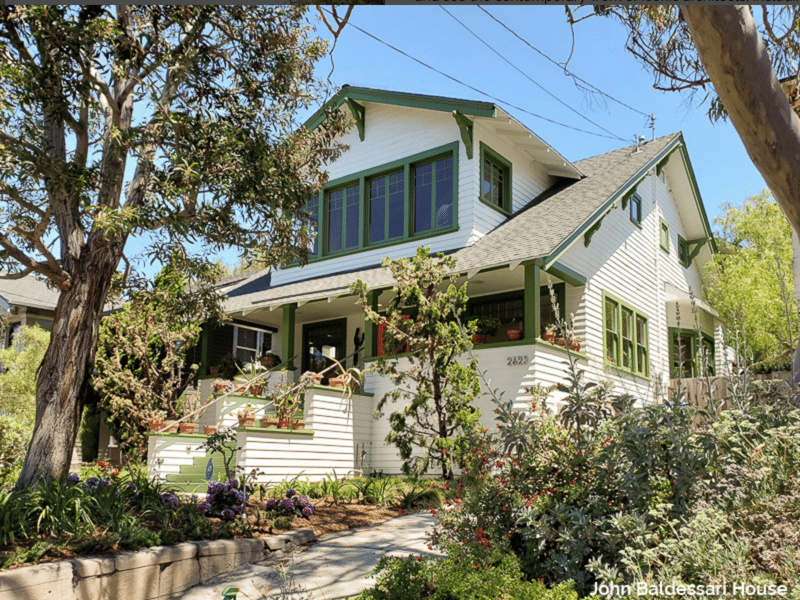 John Baldessari House, image courtesy of Venice Design Series Events
Made in Beverly Hills
May 4 - 7
The team that created Modernism Week, now called MADE (Modern Architecture Design Experience), is turning its tours and talk production abilities to the mecca of Hollywood glamor, with MADE in Beverly Hills.
This four day, ticketed extravaganza opens the door into landmarks in 90210, starting with an opening night party at the Greystone Mansion, aka the Doheny Mansion, famed for its Tudor revival splendor as well as its prohibition bar and salacious past. On receiving the house as a gift from his father, the oil tycoon Edward L. Doheny, Edward "Ned" Doheny, Jr. moved in with his family in 1929 and shortly thereafter died in a guest bedroom in a murder-suicide with his secretary, Hugh Plunkett.
Visitors also get to see signature works by architect Paul Revere Williams (inc. Beverly Hills Hotel), the Virginia Robinson Estate, whose expansive gardens include the mature grove of over 100 Australian King Palms, and they can ascend to the look-out tower of the newly remodeled and restored City Hall, in its elaborate Churrigueresque style.
Or they can head to the hills for a tour of the tony Trousdale Estates, home to the Greystone Mansion as well as the glitzy homes of Elvis Presley, Frank Sinatra, Jennifer Aniston and many other stars of the silver screen.
The guide to Trousdale is Steven Price, author of Trousdale Estates: Midcentury to Modern in Beverly Hills, who also created a self-driving tour just published by Friends of Residential Treasures: Los Angeles. As FORT explains, "Regarded from the start as a collection of showy but unserious residential architecture, what has been lost to time is that in fact, Trousdale Estates was the largest and densest concentration of residential work by A-list architects of the era, from Wallace Neff, Cliff May and Paul R. Williams to A. Quincy Jones, Harold Levitt, and Richard Dorman." Plus, Price is full of juicy stories about the dramas behind the facades.
Click here for details about MADE in Beverly Hills.
Click here for the FORT:LA self-driving tour.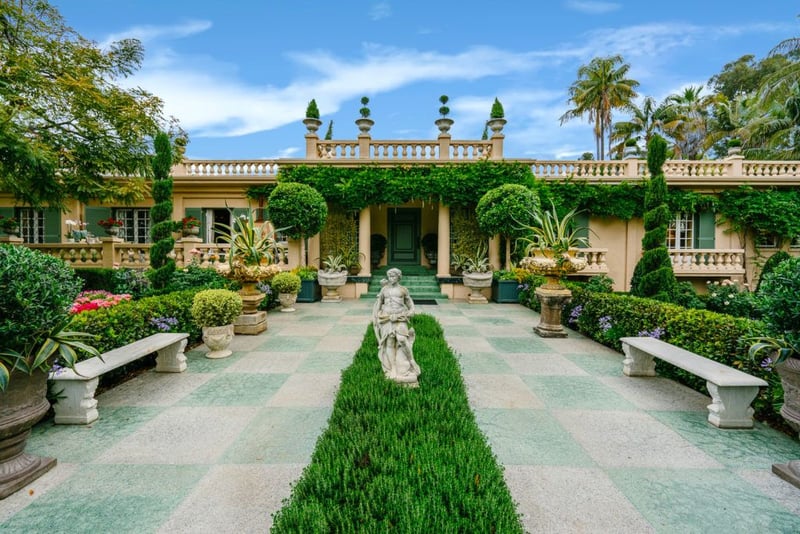 Virginia Robinson Estate, image courtesy of MADE in Beverly Hills