Design Things To Do


Participate
Design a Street!
Speaking of new multifamily housing…if you have been driving around LA, wondering why some of the new development on our arterials is overwhelming in scale and underwhelming in design (not all of it is, as shown in Common Ground), then pick up a pencil, paint brush, or computer mouse and create some alternatives for the Livable Communities Initiative (LCI) and their design challenge to envision "complete streets" and attractive housing for designated stretches of the region's thoroughfares.
LCI is a recently formed coalition of Hancock Park area residents, housing advocates, and urban planners who argue that it is possible, through changing rules, to incentivize "gentler" density on some of the Southland's arterials: modest 3 to 5-story mid-rise housing above commercial businesses, a kind of development often precluded by building codes. They want the streets this housing is on to be "calmed" to be more walkable and bikeable. The ultimate goal is to create "naturally occurring affordable and workforce housing" on "complete streets" where people can live "without the need for a car."
This sounds lovely — and raises many practical and political questions. But LCI has caught the attention of elected officials in LA who have incorporated their goals into the new housing element, reports Urbanize LA, which is a City plan to meet housing needs in a way that is equitable, affordable, and sustainable. Now the group seeks creative input from YOU in this competition. The challenge is open to anyone over 18 including professional designers, and design enthusiasts. The deadline is the end of March 15, and there are monetary prizes: Grand Prize: $2,000.00; and $1,000.00 each to the three Runner-Ups in each submission category. I'm on the jury and am excited to see the concepts.

Meet Memorial Designers
In late October 1871, some 18 Chinese people were shot or hanged by a vengeful mob following the shooting of a white rancher who, despite being warned off, intervened in a fight between rival groups in the Chinese community around the Old Plaza in downtown Los Angeles. 150 years later, the City of Los Angeles Department of Cultural Affairs (DCA) and El Pueblo de Los Angeles Historical Monument launched a competition to find a design for a memorial to those murdered, and this month six shortlisted teams, each paid a stipend to work up accessible concepts, will present their designs to the public. The project results from the 2021 Past Due report of the Mayor's Office Civic Memory Working Group, which enlisted more than 70 cultural, civic, and business leaders "to produce a series of recommendations to help Los Angeles…engage more productively and honestly with its past."
Penjing Garden by Figure x J. Jih, one of the six finalists
Annie Chu is a member of the evaluation committee for the memorial to the victims of the massacre. She says that in addition to informing the public about an event that many Angelenos knew nothing about, the memorial "needs to resonate not only with Chinese Americans or other Asian Americans, but also with a broader audience including national and international visitors — to ignite and promote dialog about violence and racism that is the heavy American burden since the founding of the nation." You can see the proposals here. Join an in-person roundtable discussion at the Chinese American Museum next Tuesday, February 14, and hear from the designers at two online presentation sessions on February 18. Check for updates, here.

Goodbye Chief Design Officer
Note: One of the instigators of this competition was Christopher Hawthorne, then Chief Design Officer for the City of Los Angeles and previously architectural critic at the Los Angeles Times. As Mayor Garcetti's tenure came to a close, Hawthorne quietly departed Los Angeles, taking up a teaching post at Yale. Now Mayor Karen Bass is focusing on alleviating homelessness and it is unclear yet if she will appoint an individual to lay out a strong design vision for the city of Los Angeles. Stay tuned.


Visit
Modernism Week/Stories Untold
If you drive through Beverly Hills you may have spotted a gas station with a soaring cream and orange roof that looks like it is about to rip from its mooring and fly off. This is the Union 76 completed in 1965 by the architect Gin Wong/Pereira and Associates (see newsletter header photo above). The flight motif is apt; the building was originally intended for LAX! You can hear more about Wong and this amazing design at Stories Untold: Asian-American Architects and Midcentury Modernism: Influential Design and Social Exclusion, a symposium to take place on Presidents Day at Modernism Week in Palm Springs (and to be filmed for future viewing).
As with the Memorial described above, Stories Untold honors a buried history of the Asian American experience in California. It is the second in the Stories Untold series, which was launched last year with a focus on little-known midcentury Black architects. That story continues on the afternoon of President's Day when Gail Kennard speaks about the life and work of her father, Robert Kennard, architect of many buildings, including the Watts Happening Cultural Center (Mafundi Building), currently in the midst of a conservation effort. The scholar and historian Alison Rose Jefferson will also share her ongoing research into leisure sites during Jim Crow, as explored in her book Living the California Dream: African American Leisure Sites during the Jim Crow Era.
Samara Joy!
Of course Modernism Week also offers plenty of its usual fizzy parties, displays of fabulous 50s automobiles and Airstreams, and visits to the former hangouts of the rat pack. In addition, the architect Thom Mayne will give a keynote (hopefully to address his firm's newly built OCMA as well as this Saudi Arabian Line project) and, hot off of her Grammy success, the jazz singer Samara Joy will perform at the Annenberg Theater at Palm Springs Art Museum! I am currently on the board of Modernism Week and hope to see you in the desert.

Art Everywhere
While some head for the desert, Frieze Los Angeles, the art fair juggernaut, descends on the Southland for its fourth year, to take place further west than before, at Santa Monica airport, because, says Frieze, it needed more space to accommodate growing numbers of participating dealers. It will take up all of Barker Hanger and then some, in a huge pop-up, tented show space on the airport campus, designed by prolific museum and gallery designer Kulapat Yantrasast and his firm WHY studio. And on Frieze's tailwind come multiple gallery openings and other art fairs (detailed here by the LA Times's Deborah Vankin), plus the opening of another Hauser & Wirth space, this time in West Hollywood, in a retrofit by noted New York architect Annabelle Selldorf of the former Heritage Classics Motorcar Company.
Frieze also puts on an array of public programming as well as some intriguing installations offsite. In Against The Edge, Jay Ezra Nayssan of Del Vaz Projects is putting art (by Kelly Akashi, Julie Becker, Tony Cokes, Nicola L.) in five storied locations on the West side — unearthing their forgotten histories. The sites are Beyond Baroque; Shirley Temple's storybook childhood home; the Thomas Mann house in Pacific Palisades, built for the self-exiled writer by Julius Ralph Davidson; the nearby Villa Aurora, home of the German Jewish emigre Lion Feuchtwanger; and the carousel at Santa Monica pier!
I always knew the pier had been a magnet for very cool people such as Patti Smith, but only on speaking with Jay did I learn that Walter Hopps, founder of the legendary Ferus Gallery, put fabric around the merry-go-round, and held his first art show, 'Action,' in the carousel itself in 1955, complete with jazz and a rendition of some John Cage compositions! Del Vaz Projects will reprise that moment with 'Action 3,' on Thursday night, February 16, the start of Frieze.
African-American or Black?
Black History Month brings us a full plate of programming. And one little gallery show that caught my attention is a group show co-curated by Monique Birault and Liz Gordon in "The Loft at Liz's," a petite space above Liz's Antique Hardware on La Brea Ave. The duo has taken on the question, per their exhibition title, of Identity Semantics Of The African Diaspora In The United States — meaning, whether to use "African-American" or "Black" as a self-identifier. They reached out to young and emerging artists Zeal Harris, Ray McCray, William Virgil, Enock Waiswa, Richard Turner, Cheyann Washington, and Michael Massenburg — and assembled a group show of works that says Birault, "manifests the topic as differently as their experience of identity semantics." The show is open through March 28 and the artists will talk about the topic at an in-person and Zoom talk on February 25th.
Hidden Treasure
One of the attractions of this show is the getting there. A treat of cultural life in LA is that — unlike in older more urban cities where galleries line streets or fill a large art fair in a centralized tent — art happenings often take place in invisible, or offbeat places: in garages of homes, in industrial spaces, or, like this one, in a small room above and at the back of Liz's Antique Hardware. To get to Identity Semantics you have to make your way through a salvage junkie's heaven of used hinges, vintage lampshades, and old wash basins! The secrecy and oddness of its location adds to the adventure of it all.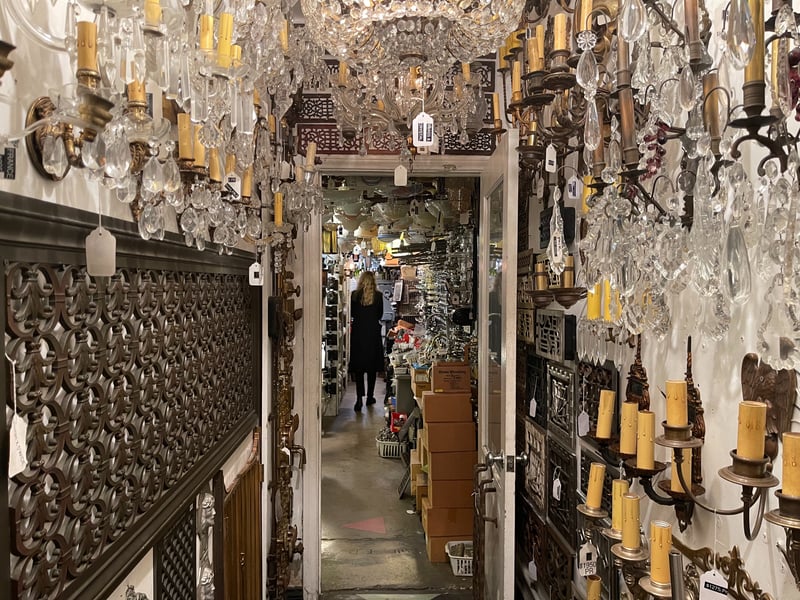 Corridor leading to Liz's Loft above Liz's Antique Hardware