Design Things To Do


Cassina Opens Supersize Showroom
When Spanish-born, Milan-based furniture and product designer Patricia Urquiola burst onto the scene at the turn of this century, a great talent had arrived. Since 2015 she has been Art Director for the Italian furniture company Cassina, an innovator in furnishings since its founding in 1927. The company, which has produced collections by founding Modern architects such as Le Corbusier, Charles Rennie Mackintosh, Frank Lloyd Wright and Charlotte Perriand, as well as many designers including Piero Lissoni, Vico Magistretti, Gaetano Pesce and Virgil Abloh, always had a small presence in Los Angeles. But now it has gone big, opening what the company says is its largest store in the world, a 13,000 square feet new space at 145 N. Robertson Boulevard in Beverly Hills (see image above).
It does this, in partnership with DIVA Group, at a time when much storefront retail is shrinking. Not a problem, says Urquiola, who I met at a gathering to mark the opening of Cassina. As she sees it: "At this moment, (Los Angeles) has a big energy for design."
Incidentally, that gathering took place in a location chosen for its design flair: the John Lautner-designed 1956 Harpel House, which sits atop a lofty slope off of Mulholland Drive, on Torreyson Street (just south of Mulholland Drive), close by the more famous Chemosphere House. That structure now has a baby, Harpel II, a guesthouse originally designed by Lautner but never built. Mark Haddawy, co-founder of the retailer Resurrection Vintage, spent several years building the curvy concrete and glass structure as close as possible to Lautner's scheme that today's codes would allow. It was kitted out for the event with Cassina furniture, and became a lovely lantern at night (below).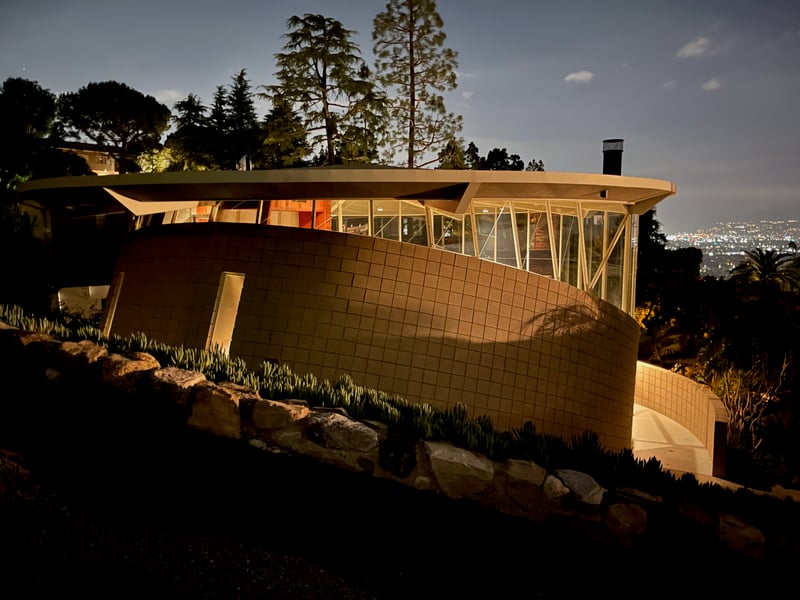 Harpel II, built by Mark Haddawy, photo by Frances Anderton
Green Building at the Beehive
MyGBCE, SoLA Beehive, Thursday, May 18
The Los Angeles branch of the US Green Building Council, co-creator of the LEED rating system for buildings, holds its annual tradeshow and symposium on May 18. Come find out the latest on decarbonization of buildings, all-electric everything and, hopefully, the indoor air quality revolution.
There is a galaxy of great speakers taking part, and I'll join the line-up to lead a fast-paced conversation with a small group about my favorite topic, multifamily housing – and why higher density living just might be better for the planet and human well-being. That's one of several "Table Talks" that are part of the mix this year, along with a party with music, appetizers, and drinks for optimum networking with the sustainability crowd.
MyGBCE, as it's now branded, is testing a new format for their event, as well as an interesting new location: the SoLA Beehive, a 92,000-square-foot retail and production space in a federal Opportunity Zone in South LA. Six red-brick warehouses have been transformed into venues that currently house a Technology and Entrepreneurship Center as well as Black-owned businesses including a craft brewery and art gallery.
Click here for details.
Fool's Journey
Tarot Card Readings at the MAK Center
Fridays, May 19/June 23/July 21
Programming public events in a town with numerous competing offerings can be hard. So cultural institutions are getting creative in getting people's attention, often by turning to popular interest in wellness and self-actualization. Both MOCA and LACMA offer yoga and meditation in their spaces. Meanwhile the MAK Center at the Schindler House in West Hollywood offers divination in the cards.
Starting this Friday, May 19, visitors can have a tarot card reading by Linda Besemer, while sitting in art: the shag carpet installation in the Chase Courtyard by artist Renée Petropoulos. Readings will take place once-monthly through July.
While at the MAK center, check out Seeking Zohn, a display of photographs of the brutalist-but-sensual parking structures, parks, housing, and office buildings designed by Mexican-Austrian architect and engineer Alejandro Zohn (1930-2000) in Guadalajara from the 1950s to the 1990s. The show was created by architecture critic Mimi Zeiger with Tony Macarena, a self-described "design queeratorial duo" (Lorena Canales and Alejandro Olávarri), based in Mexico City, with an installation by Bob Dornberger that creatively stretches a small budget. He blew up the images, mounted them on raw wood stands and frames, and placed these throughout the grounds, like set pieces enhancing the effect of the rough-hewn house and its gardens.
Click here for details about the readings. Click here for details about Seeking Zohn.
"Heal Hear Here"
LA State Historic Park, Saturday, May 20, 3:00pm - 7:00 pm
Artist and instigator Anne Bray has been quietly making waves at the intersection of public space and media art since she co-founded Freewaves, a "grassroots yet global arts organization dedicated to collecting and connecting innovative and culturally relevant independent new media from around the world."
This Saturday, Freewaves and Take Action for Mental Health LA offer a free public event in a "multi-sensory, multicultural environment, encouraging Los Angeles to break out of isolation and into a reparative afternoon of collective care in Yaanga, the homelands of the Tongva/Gabrielino/Gabrieleños."
"Indigenous-informed" opening and closing ceremonies, a labyrinth, a dancing and drumming participatory workshop, a star garden and large-scale puppets created by Beth Peterson (One Grain of Sand/LA Commons; shown) are among the treats created by 30 artist groups and organizations who invite Angelenos to "join us as we soothe + connect + harmonize + toast + scream + hum + dismantle + sing + rock + breathe + move + meditate + walk together."
Register for the event at bit.ly/healhearhere.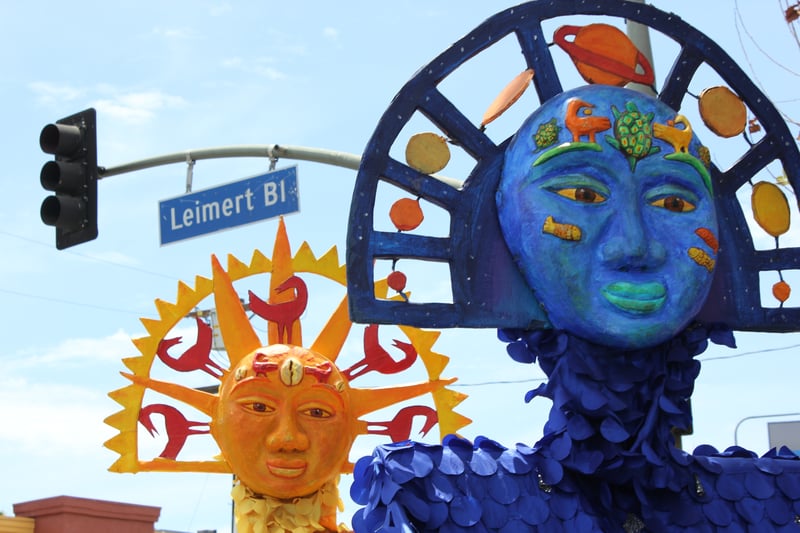 Puppets by Beth Peterson-
L
A Commons, image courtesy Hea
l
Hear Here
ArchTour FestLA
Wednesday, May 17 - Sunday, May 21
Final reminder to sign up for this Saturday's tour of (W)rapper, the provocative new office tower by Eric Owen Moss at which I'll do a Q and A with EOM. It is one of several tours of new LA buildings hosted by AIA/Los Angeles, including the Hilda L. Solis Care First Village, the Crenshaw High School Performing Arts Center, the Jungle Gym House and several more.
Click here for tickets.
You Are Here: California Photography Now
Millard Sheets Art Center | LA County Fair
Through May 29
When the LA County Fair opened in Pomona in 1922, it boasted harness racing, chariot races and an airplane wing-walking exhibition. This year, the crowd draws include the Haunt Super Show, the Ray Cammack carnival, the Paul Cash Environmental Magic Show, and some fine art: the Los Angeles County Museum of Art has brought You Are Here: California Photography Now to the Millard Sheets Art Center at the Fairplex.
The 35 artworks, drawn from the museum's permanent collection, "speak to specific aspects of the region, from entertainment and technology to marijuana dispensaries and flea markets…expand the definition of photography," according to a LACMA press release.
The Fair has shown art exhibitions since the 1930s, said Walter Marquez, President & CEO of the Fair, in the release, but "what we find today is that many Inland Valley residents do not get the opportunity to experience the larger art scene in Los Angeles. This is why having LACMA here is important."
Access to the exhibition is free with fair admission. Click here for details.
Rafae
l
Cardenas, Dos De Asada, 2010, inkjet print,
L
ACMA, © Rafae
l
Cardenas