Dear DNA friends,
I hope all is well with you as the work and school year kicks in.

With Labor Day weekend coming up, you may have friends in town who want to see cool houses in LA. Well, your life as a tourist guide will be easier if you go straight to these self-driving Trails of fascinating homes created by contributors to Friends of Residential Treasures: Los Angeles (FORT: LA).
FORT, founded by the filmmaker Russell Brown, offers trails, along with research and public events, aimed at inspiring Angelenos (and their visitors) to "venture outside their regular urban LA village" and take in new buildings, neighborhoods, and nook and crannies of the city. He adds, "The Trails bring you closer to histories of owners and architects, so it's a kind of communing with the DNA of Los Angeles."

And it does, as I learned this past weekend when some newcomers to the Southland asked me for advice on what to go and see. I sent them the link to the Trails, and off they went happily, choosing from routes that could take them past residential treasures such as swank Trousdale estates, postwar homes by Japanese-American architects, houses commissioned by civil rights leaders, the ever popular Witch Houses 1, 2 and 3, and Stilts on Screen, as in houses on stilts that were made iconic in films and TV shows like Heat, Bosch, and Lethal Weapon 2 (starring the Garcia House, designed by John Lautner, above.)
I myself got to get up close to the latter, for this recent Greater LA episode, when Russell and I accompanied Steve Chiotakis on a tour of some of the most remarkable of the stilt houses. We also visited with some homeowners who told us why they chose to live in structures held up by skeletal columns that cantilever over precipitous drops. It turns out the reason is mostly environmental, as both women said they appreciate living over the untamed wild Los Angeles mountainscape with its bobcats and coyotes and birds and native shrubs and trees. They didn't want to live on graded hillsides in homes protected by fortified walls, blocking the passage of flora and fauna. They liked the iconic architecture too.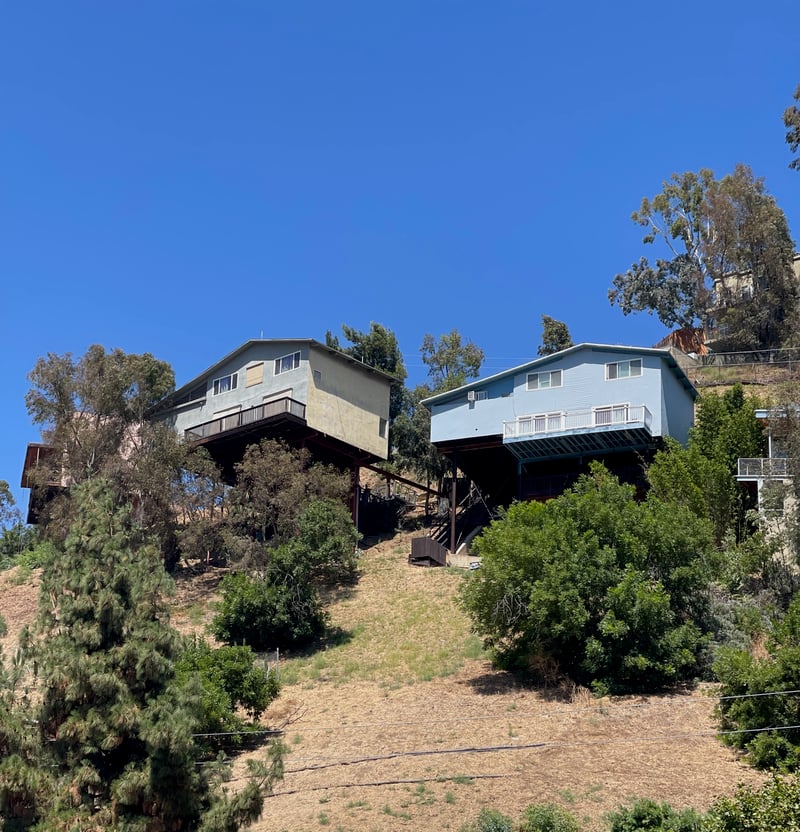 Stilt Houses leave the land untouched. Photo by Frances Anderton
No Canyon Hills
With the ideal of no grading of land in mind, I have been following with great interest the battle being fought to save 300+ acres in the Verdugo Mountains in Tujunga (covered on Greater LA). The land is threatened by a proposed development called Canyon Hills that was entitled almost 20 years ago for a luxury, gated housing tract.
Fast forward 18 years and the developer wants to begin grading the land, but now times have changed. In 2023 we have a far greater sense of the need to protect passageways for mountain lions and other creatures, as well as heightened awareness of the fire risks and other perils of building in the Wildland Urban Interface (WUI). So a coalition of activists, nearby residents, tribal elders, citizen scientists and land-use lawyers is fighting for a reconsideration of the entire development.
The campaign was launched by artist-environmentalists Emma Kemp and Mateo Altman, along with a core team of community researchers, "in solidarity with the plant and animal communities of the Verdugo Mountains in Los Angeles, ancestral land and unceded territory of the Fernandeño Tataviam Band of Mission Indians, and the Gabrieleno (Tongva) Band of Mission Indians."
Attitudes about land-use have shifted so much that at a recent meet and greet for Assemblywoman Laura Friedman, she expressed support for more housing in Los Angeles, but not through building over remaining green open space such as Canyon Hills. Rather, she said it should be in hubs where transportation, jobs and social infrastructure already exist. That's according to attendee Christian Kasperkovitz, who is helping raise awareness with these neat illustrations.

Now the coalition, armed with a petition signed by almost 175,000 people, is working with conservation partners, including two tribal land conservancies, to negotiate a solution, with the hope that the site may be conserved.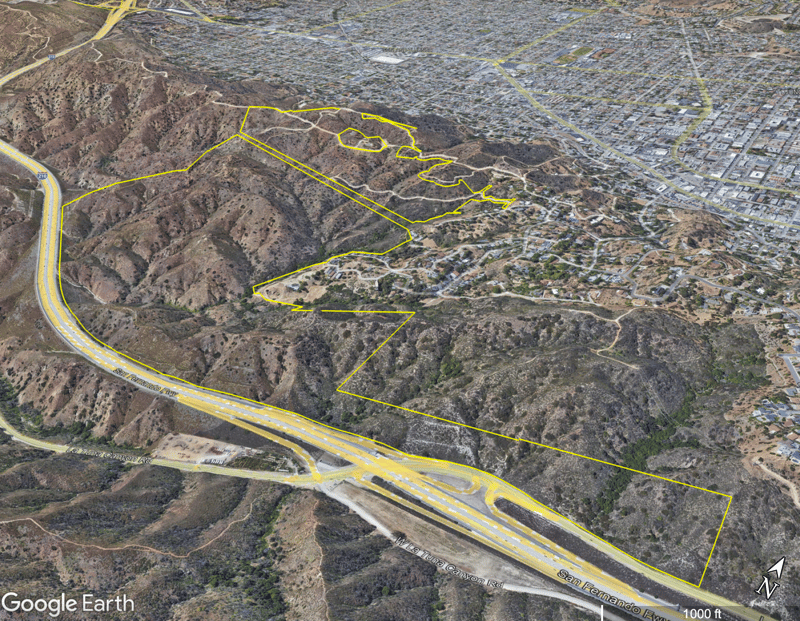 Aerial shot of the Canyon Hills site, showing the development area; courtesy No Canyon Hills
Springs in the Air!
In the meantime, I am happy to share the news that another natural resource has, for now, been saved from the wrecking ball.
Longtime bathers in the natural waters at Beverly Hot Springs in Koreatown were shocked to learn, mostly by word of mouth, that developers planned to demolish the spa, cap the well, and build several stories of housing and ground-level retail with underground parking. It was a mystery as to why such a development would not incorporate the springs as a highly desirable amenity.
A campaign was mounted, an appeal was filed, and this report was aired on Greater LA. Then, last week we learned that the developers have pulled out of the project altogether.
The next step is figuring out how to sustain these baths in perpetuity, for people of all income levels, which may start with trying to get the spa designated as a historic landmark.
To learn more about ongoing efforts as well as the fascinating history of BHS, read this deeply researched piece by Tracy Abbott Cook. She unpacks the spa's connection to the onetime nearby Bimini Baths and the segregation fight that killed them. She waxes lyrical on the waters today, "where there is zero racial tension" and "a healing response to the kevlar wrapped psyche that plague most Angelenos living our big city life." And she explores the mysterious sulfur smell that wafts around the baths shortly before earthquakes!
Design Things To Do


Alfredo Boulton: Looking at Venezuela (1928–1978)
AND
Graphic Design in the Middle Ages August 29 –January 28, 2024 The Getty Center
Forget Adobe Illustrator and QuarkXPress. Some of the most glorious page layouts ever were created many centuries ago by Islamic and Christian scribes and artists. Now Graphic Design in the Middle Ages at the Getty Center presents those anonymous talents as "the world's first graphic designers, planning individual pages and whole books in creative ways… from the layout of the page to text as graphic organizing tool, and the role of ornament in the structure of the finished product…"
This is one of two shows opening at the Getty Center that are well worth battling the 405.
The other is an important exploration of the work of Alfredo Boulton, the Caracas-born photographer who moved in avant-garde circles in Paris before returning to his home country and establishing "a new cultural definition of Venezuela," in the words of The Getty.
The works on display in Alfredo Boulton: Looking at Venezuela, 1928–1978, are drawn from the Alfredo Boulton archive, acquired by the Getty Research Institute in 2020, and explore Boulton's relationships with modern artists, his influence on the formalization of his country's art history and his depiction of "an idealized Venezuelan archetype based on what he termed belleza criolla, the beauty resulting from the mix of the white, Indigenous, and Black people in Venezuela."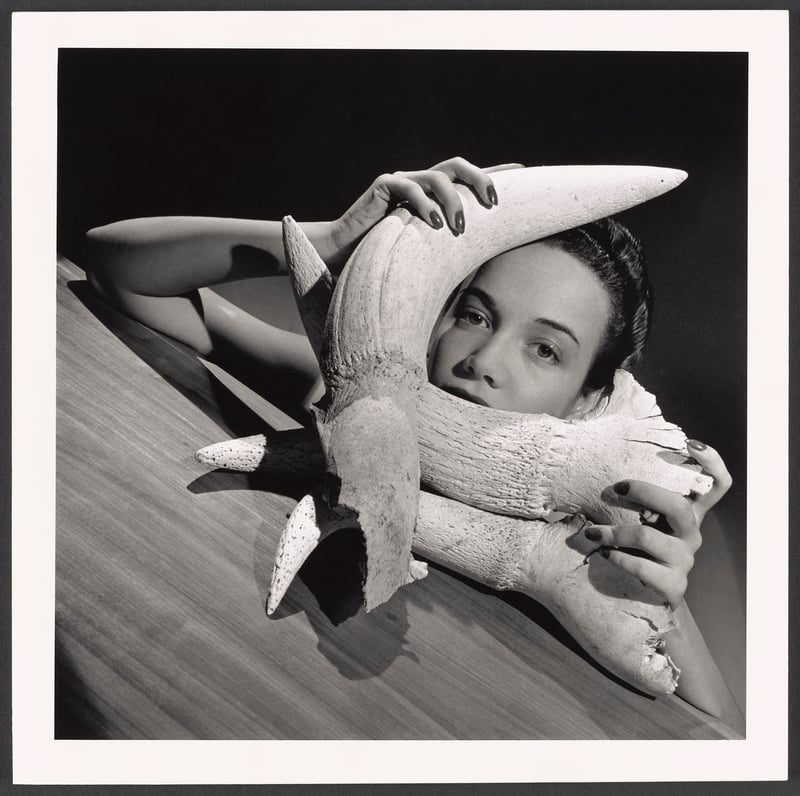 Flora, la Belle Romaine, ca. 1940s, printed in 1990s, Alfredo Boulton, GRI/Alberto Vollmer Foundation
Threading the Needle Angel City Brewery, 216 S Alameda St, Los Angeles, CA 90012 September 7-30; Opening, Thursday, September 7, 6-9:00 PM
Micah Clasper-Torch is a Los Angeles based artist, designer, and educator who specializes in textile craft techniques of punch needle rug hooking and tufting, which she describes as "a forgotten North American rugmaking and folk-art heritage that is currently undergoing a modern revival."
Now she has curated a group opening on September 7 at Angel City Brewery in downtown LA. It is part of the ArtShareLA x Angel City Brewery Emerging Curator Program.
Threading the Needle showcases the work of 11 contemporary women fiber artists whose medium is Rug Hooking, Punch Needle Rug Hooking and Tufting, expressed in a range of new interpretations of color, design, and technique. It explores "the interplay between history, heritage, and experimentation, celebrating the future of this craft while paying homage to punch needle's past and the overlooked generations of women whose work came before," says Clasper-Torch.
Click here for details.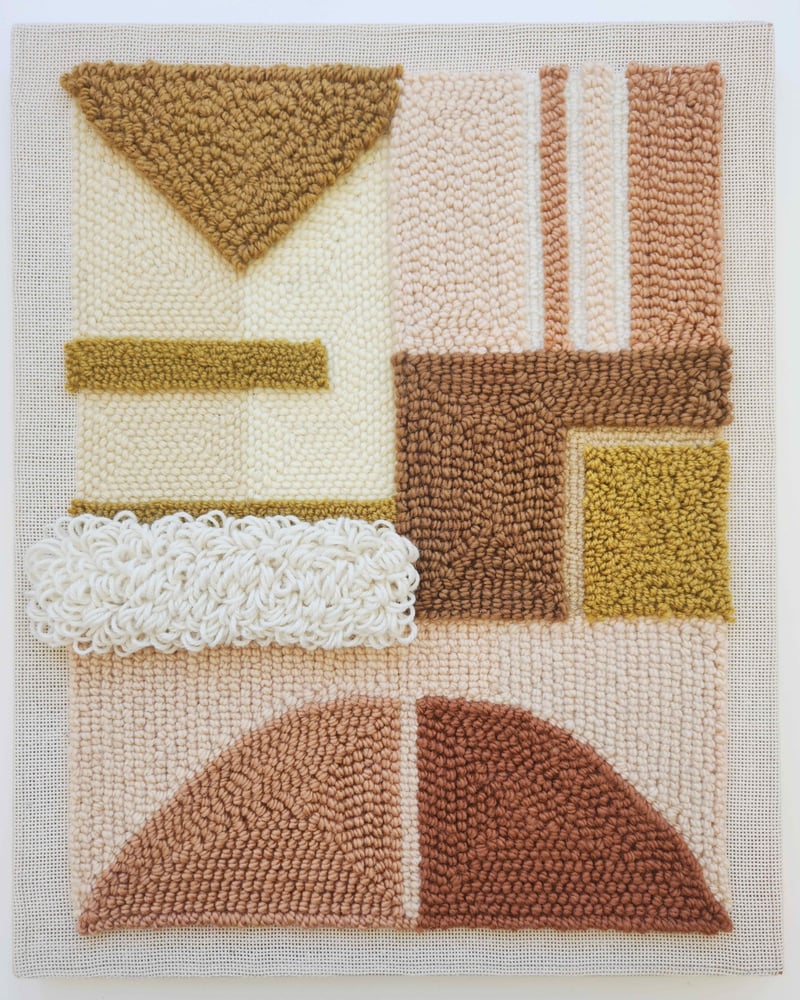 Wall mounted artwork designed by Micah Clasper-Torch, using punch needle rug hooking

Vertical Mixed-Use: How to Solve the Puzzle of Adaptive Re-Use Thursday, September 14, 5:00-8:00 PM
The California Club 538 S Flower St. Los Angeles
There's a lot of hopeful talk these days about converting emptied-out office buildings into housing. This happens to coincide with the current updating and expansion of the Los Angeles Adaptive Reuse Ordinance (ARO), which was passed in 1999 and has proven so transformative for downtown Los Angeles (covered on this Greater LA)

But while turning offices into homes may seem like a no-brainer, there are all sorts of hurdles to making these developments pencil out, from bringing natural light and air into deep plan office buildings with sealed curtain walls designed for controllable HVAC to meeting earthquake safety standards that can be more stringent in residential developments.
I'm thrilled to get a chance to talk about all of this with experts who are deep in trying to solve this puzzle, with developer Clare de Briere, Nick Griffin of the downtown Business Improvement District, senior city planner Michelle Levy, and architect Karin Liljegren. We will meet at a panel hosted by the Los Angeles Headquarters Association (LAHQ), at The California Club. It is a ticketed event but refreshments are included!
Click here to register.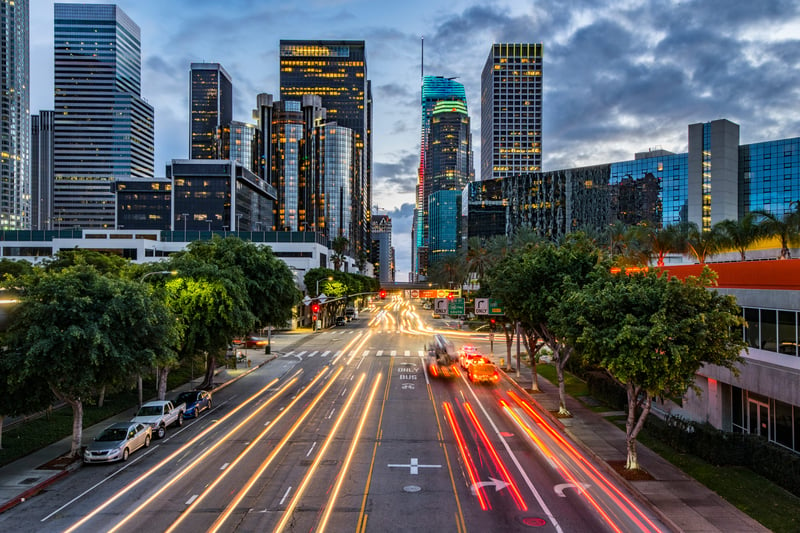 Could these DTLA office buildings become homes? Image courtesy of LAHQ
Prime Time Friday, September 15, 6:30 PM, Reception; 7:30 PM, Talk Helms Bakery District 8707 Washington Boulevard, Culver City
If you follow this newsletter, you'll have read about Close to the Edge: The Birth of Hip Hop Architecture, the exhibition curated by Sekou Cooke and co-presented by Helms Bakery District, Socal NOMA, and A+D Museum about the elements of hip-hop –– emceeing, b-boying, and graffiti –– and their influence on design and architecture.
Well, that show comes to an end on September 17 and there's a bunch of activities marking the closing, including, on September 15, a talk with graffiti artist Jose "Prime" Reza, a founding father of Los Angeles stylized graffiti lettering who created the wall art for Close to the Edge.
Prime will sit down with celebrated muralist Man One for a conversation moderated by arts entrepreneur Scott Power. They will take on topics including: the birth of graffiti in LA and the influence of East Coast hip hop as well as their paths from wild childhoods painting the walls of LA to established artists navigating a world in which street art is a commodity. Free.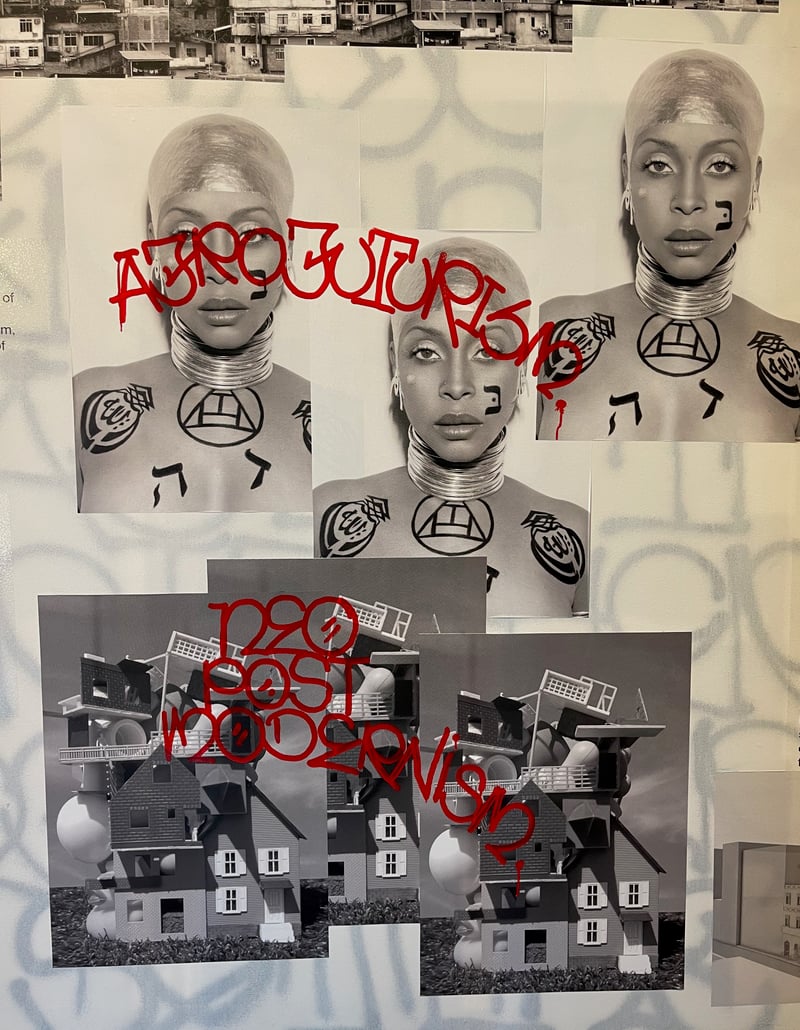 Prime's lettering adorns the walls of the Close to the Edge installation. Photo by Frances Anderton.