Dear DNA friends,
I hope you are doing well, despite skies so overcast that even some British vacationers I know left for home early, saying it was sunnier in the UK!
But you can still celebrate the summer at the LA Design Festival, at talks about glam Surfside living and California Dreaming, and at CicLAvia in South LA. That and more are coming up, in Design Things to Do…
Before that, Close to the Edge: The Birth of Hip-Hop Architecture comes to Los Angeles.

From its birth in the 1970s, hip-hop encompassed deejaying, emceeing, b-boying and graffiti writing. It has shaped numerous creative outlets, including poetry, fashion, sport, film, and gaming. But the Jamaican-born architect and urban design professor Sekou Cooke, along with some other architects and scholars, was interested in its architectural manifestation.
After all, hip-hop owes its existence to architecture, urbanism, and city planning, wrote Cooke in a provocative 2014 essay. By this he meant resistance to architecture, urbanism, and city planning, specifically the merciless urban renewal program helmed by the New York planner Robert Moses that "relegated the poor to crowded subways and public housing towers—a perfect incubator for a fledgling counterculture. One need not know all the lyrics to Grandmaster Flash's "The Message" or Melle Mel's "White Lines" to appreciate the incendiary structures built by Moses and his policies. As the Bronx began to burn, hip-hop began to rise," wrote Cooke.
What if all that energy and resistance were expressed in buildings themselves?
So Cooke created an exhibition, Close to the Edge: The Birth of Hip-Hop Architecture, and then a book, Hip-Hop Architecture, featuring projects from students, academics, and practitioners from several countries, in a variety of media and forms of expression: experimental visualizations and installations, façade studies, building designs, and urban development proposals. "Unlike typical architectural styles that produce consistent formal language," wrote Cooke in his book, "the products of Hip-Hop Architecture are only consistent in their flows, layers and ruptures… How Hip-Hop Architecture is produced is more easily described than what it looks like." Exhibits include the Colored Houses Project by Amanda Williams, who painted buildings about to be demolished in vivid hues, and Lauren Halsey's Crenshaw District Hieroglyph Project (2018), in which portraits, symbols, and designs inspired by the South LA neighborhood are carved into a plywood and gypsum freestanding room.
Close to the Edge opened in New York in 2018, then traveled to St. Paul, Minnesota, Charlotte, NC, and Atlanta, GA. Now it comes to Los Angeles for its final outing, and will be on show at Helms Bakery District, with a June 24th opening party, during the Los Angeles Design Festival (see below).
Cooke designed and reconceived the exhibition for each location in a way that reflects the spirit of hip-hop –– raw, iterative, layered, with photos of work hung on chopped up sections of a shipping container, and a freshly graffitied wall, created for LA's show by the artist Prime. Close to the Edge is also a platform for Black architects, who have long been vastly underrepresented in the profession (find out why in this KCRW/DnA interview with Lance Collins, past president of SoCal NOMA/National Organization of Minority Architects). Hence they were deprived of agency in the face of that urban renewal that destroyed their communities. So bringing Close to the Edge to Los Angeles has been a burning goal for SoCal NOMA, which partnered up with the Architecture + Design Museum and Helms Bakery District to make it happen. "The opportunity to bring this exhibition to Los Angeles is special to me in order to continue to push for the celebration of diverse architects, designers, and artists who may not have previously gotten the mainstream spotlight," says Collins, adding that it "shows an expansion of thoughts and creativity by African-American architects and designers, broadening the conversation about what architecture 'can be' and introduce new forms of inspiration that all of us can learn from!"
Get more details here, come to the public opening party and meet Sekou Cooke on Saturday, June 24.
For more on hip-hop in all its creative expression, check out the newly published book The Culture: Hip Hop & Contemporary Art in the 21st Century, for which Cooke is also a contributor.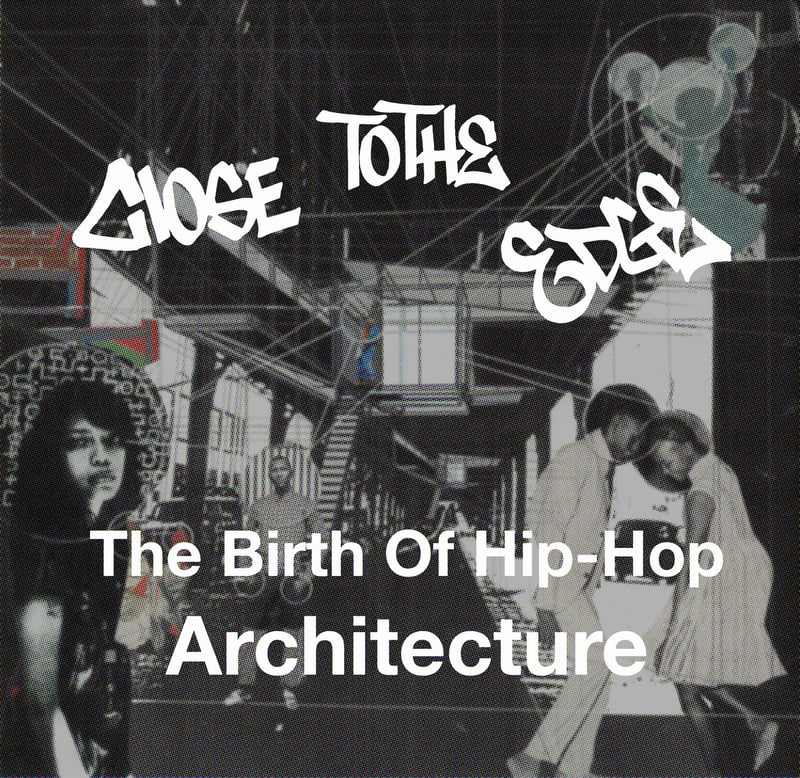 HHA Signifyin project by Nate Williams, 1993