Design Things To Do


A.I. and Role Play
For many designers who have been creating in the digital sphere for years, A.I. may be more of an evolution than a revolution. And one of those designers is the architect/engineer/industrial designer and SCI-Arc professor, Elena Manferdini, who I first met almost twenty years ago when she produced a trailblazing clothing line composed online, with sinewy shapes and patterns cut by laser. She has teamed up with her fellow educator William Virgil, artist and founder of Brash Collective. Together they have created a show whose goal is "to demonstrate the power of A.I. to reproduce dominant stereotypes along with stunning images." Manferdini explains that they both used a text prompt ('I do not know his and he does not know mine') and produced a series of self-portraits. The exhibition, say the artists, "will question who we are today, what cultural factors influenced our sense of self, and the possibility of being reimagined because of these digital alternatives." Somehow the little girl image brings to mind M3GAN (see below)! ROLE PLAY is in the Modest Common Gallery for emerging artists and architects at 505 W Pico Blvd, Los Angeles, CA 90015. It runs through April 1, and is open on Tuesdays 10 AM-6 PM, and by appointment. The gallery will host a talk about the project with the designers on March 31st at 6pm.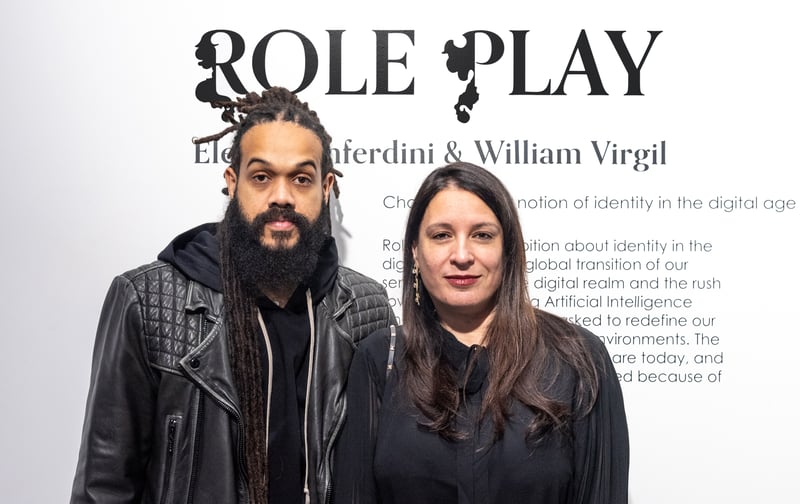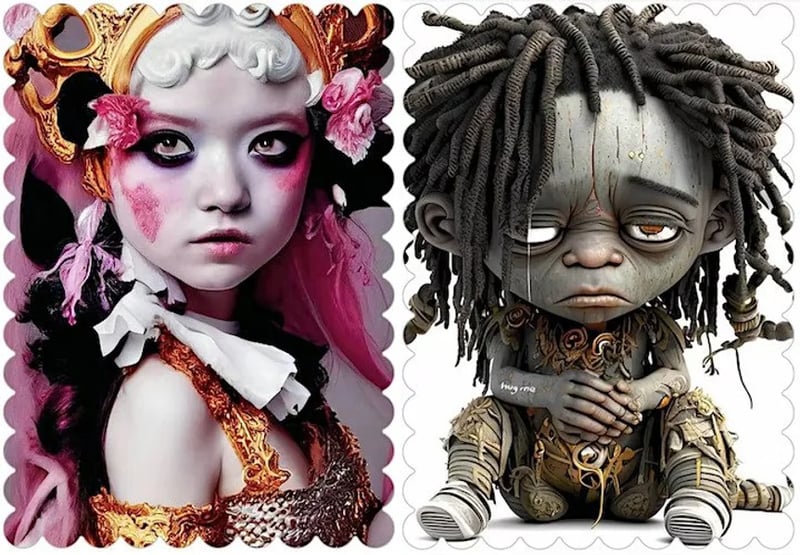 Elena and William at opening and their A.I. self-portraits
A Chair is not just a Chair at Marta
Along with the recent bonanza of contemporary art events surrounding Frieze Los Angeles comes a display of what you might call conceptual furniture, as in seating or tables or lighting that can be used, but are also informed by an idea and can stand alone as an object to behold, thus functional art. A gallery that has set itself apart with very elegant shows of this kind of work is Marta, founded in 2019 by Benjamin Critton and Heidi Korsavong.
Marta is based in Echo Park but has created a pop-up in a light-filled metal and glass pavilion at the corner of La Cienega and Fairfax in Culver City. There, they are displaying Oríkì (Act I): Friction Ridge, a show of 10 curving bronze benches designed by Lagos-based Nifemi Marcus-Bello and made in collaboration with longtime fabricators in Benin City. The benches, each dotted with the personal fingerprints of the craftspeople, are placed by the curators on plinths of bricks, and presented with an edition number to define them as artworks. The materials bring to mind the "Benin bronzes" made for Benin royalty (and ransacked by the British in the late 19th century and undergoing repatriation). The collection's name, Oriki, refers to the Yoruba practice of praise poetry and spoken affirmation, and viewers also hear audio of the artist's mother, Folake, as she delivers a personalized oríkì to her son. Marcus-Bello's next "act" will be similar benches made in stone or marble and shown in London. The exhibit is open through March 4. Click here for information and opening hours.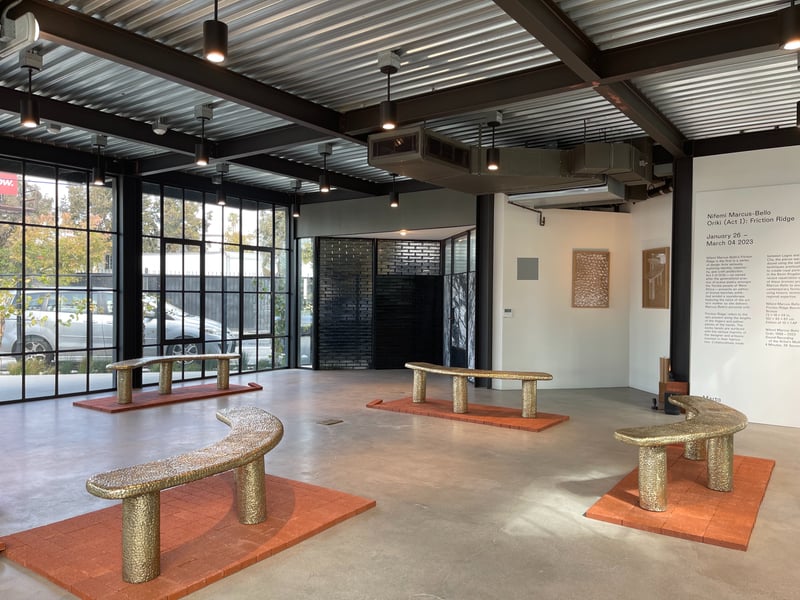 Benches
Art and Furniture at Cody House
Back in Palm Springs you can see another interesting fusion of art, furniture, and architecture in the classic post and beam, steel and glass William F. Cody and Winifred Cody House, designed by Cody for himself and his family in 1952 in Palm Springs. The Laguna Beach gallerist Peter Blake has created vignettes of furniture and artworks, such as this fiberglass and LED light artwork by Philip K Smith III, with chairs by Afra and Tobia Scarpa. The concept was to fill the Cody house, lovely in its lightness and transparency, with masters of the light and space movement past and present, including Peter Alexander, Helen Pashgian, Larry Bell, De Wain Valentine along with Smith, Gisela Colon, Lita Albuquerque and more. The project was given an assist by Brooke Hodge, former architecture curator at MOCA, and now an independent curator based in Palm Springs. Contact her at williamcodyhouse@gmail.com to book a visit, through March 25. Or join a Modernism Week tour and cocktail party this Saturday, February 25.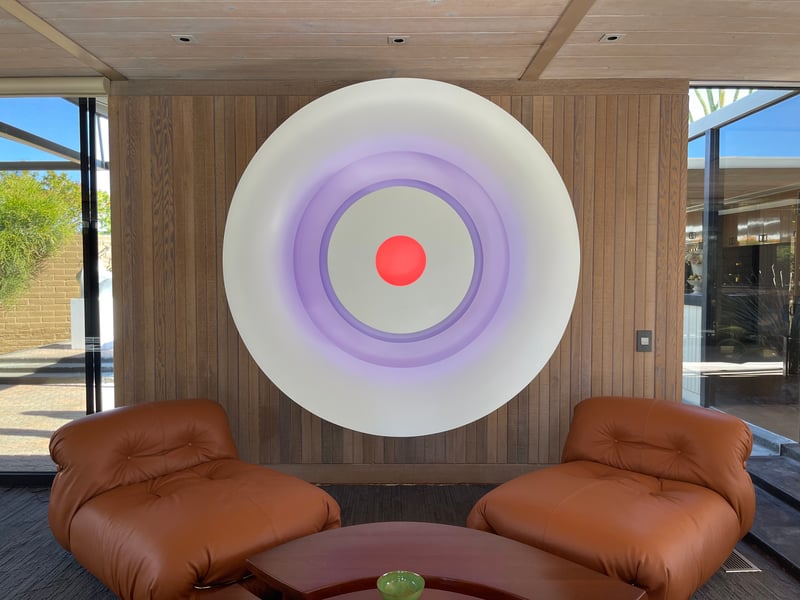 Cody house with Smith artwork
X Marks the Spot for Art in the Desert
This rare opportunity to view the Cody house happily coincides with the next seasonal happening in the Coachella Valley, the site-specific art treasure hunt, Desert X, co-curated this year by Artistic Director Neville Wakefield and Diana Campbell. Visitors will be able to see temporary installations in the desert landscape by eleven artists from Europe, North America and South Asia. Artists include LA's Lauren Bon, Bangladesh-born Rana Begum, and New York-based Tschabalala Self. Notwithstanding — or perhaps in response to — the car-based nature of the widely dispersed exhibition, the theme of the show is the environment, and organizers hope the artists will "create instruments of self-awareness that make visible the forces that we exert on the world." Desert X opens March 4 and runs through May 7. But if you go in March you'll get to see the loveliest environmental art of all: the desert wildflowers, in full bloom following this winter of rain.
Art for Resistance
Poster Territory is a collective of poster designers that produces designs for various causes that are then printed in Ukraine, the homeland of Poster Territory founder Olga Severina. With the ongoing devastation in her country, Severina and the graphic design organization The 4th Block have created War Time Graphics, an exhibition of 50 anti-war posters by contemporary Ukrainian artists. They are on show through March 4 at Helms Bakery District, and there will be an opening reception this Saturday, February 25, along with the Path of Resistance Charity Event, a pop-up exhibition and a silent auction of artworks to raise money to support refugee Ukrainian artists as well as a Children's Hospital in Lviv, Ukraine. It marks the anniversary of the invasion of Ukraine, and takes place at Helms Bakery District, from 3-6 PM. I'll be there and hope to see you.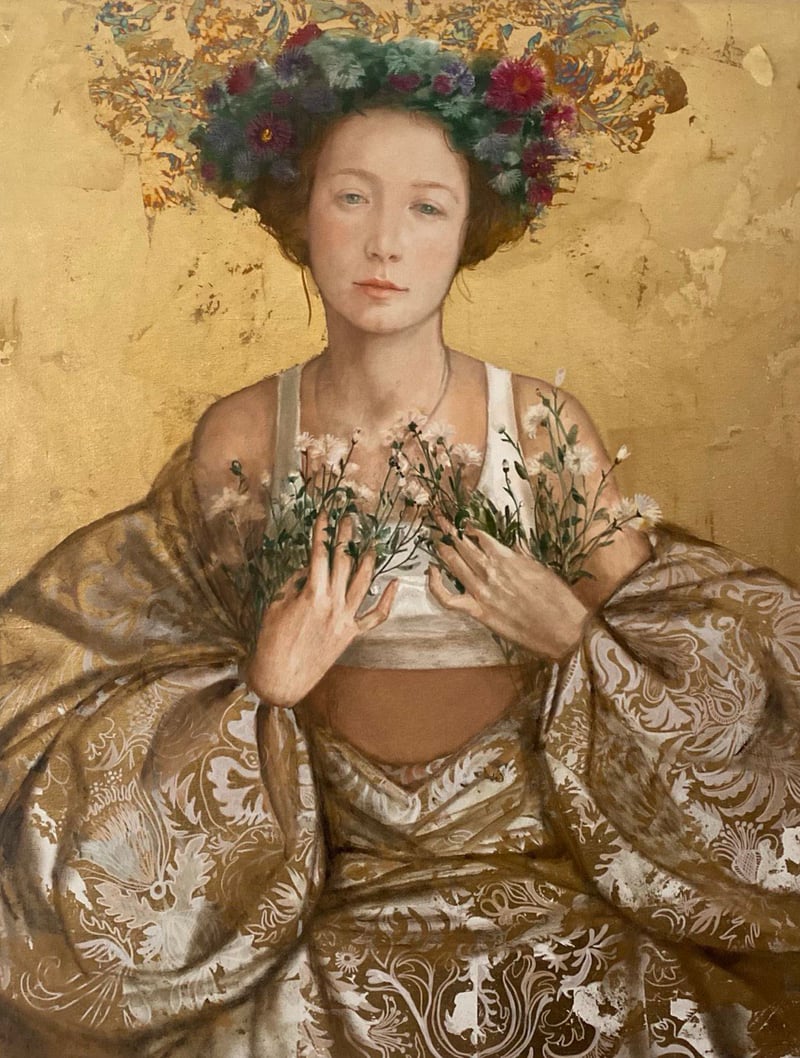 Featured painting by Tata Kolesnik